Alternative names: Tabon Scrubfowl; Philippine Scrubfowl
Megapodius cumingii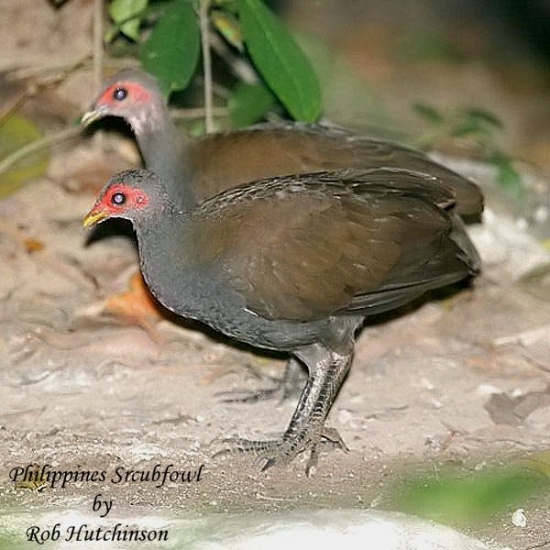 Identification
35 cm. Typical Scrubfowl:
face scarlet
upperparts brown
underparts grey
crest almost absent
tail short
iris brown
bill yellow
feet blackish, reddish at back
The sexes are alike. Immature birds are brown, barred and blotched with black.
Distribution
Indonesia and the Philippines.
Taxonomy
Relationships poorly understood and various subspecies may warrant elevation to species. In particular, sspp sanghirensis and talautensis appear distinctive and are perhaps better treated as "Sangihe Scrubfowl", M. sanghirensis [3].
Subspecies
Clements recognises 7 subspecies [1]:
M. c. dillwyni: northern Philippines (Luzon, Mindoro, Marinduque and Babuyan Islands)
M. c. pusillus: central Philippines (Visayan Islands, western Mindanao and Basilan
M. c. cumingii: northern Borneo, Palawan and Sulu Archipelago
M. c. tabon: southeastern Philippines (eastern Mindanao)
M. c. gilbertii: Sulawesi, Talisei, Tendila, Lembeh and Togian islands
M. c. talautensis: "Sangihe Scrubfowl". Talaud Islands (northern Moluccas)
M. c. sanghirensis: "Sangihe Scrubfowl". Sangihe, Siau, Tahulandang and Ruang islands (off Sulawesi)
Habitat
Coastal scrub to montane forests.
Behaviour
Ground-dwelling fast runners.
Breeding
They build mounds of decaying vegetation that incubates their eggs. Eggs from several females are laid deep in a mound of rotting vegetation or loose sand. The nests are built up over many years. The female bird tunnels into the top of the mound and lays a large, pinkish red egg which becomes pale pink as it ages. The fully feathered young finally emerges about 70 days later, already able to fly.
References
Clements, J. F., T. S. Schulenberg, M. J. Iliff, D. Roberson, T. A. Fredericks, B. L. Sullivan, and C. L. Wood. 2017. The eBird/Clements checklist of birds of the world: v2017, with updates to August 2017. Downloaded from http://www.birds.cornell.edu/clementschecklist/download/
Gill, F and D Donsker (Eds). 2014. IOC World Bird Names (version 4.3). Available at http://www.worldbirdnames.org/.
Eaton, JA, B van Balen, NW Brickle, FE Rheindt 2021. Birds of the Indonesian Archipelago (Greater Sundas and Wallacea), Second Edition. Lynx Editions. ISBN978-84-16728-44-2
Recommended Citation
External Links
GSearch checked for 2020 platform.1