Vireo philadelphicus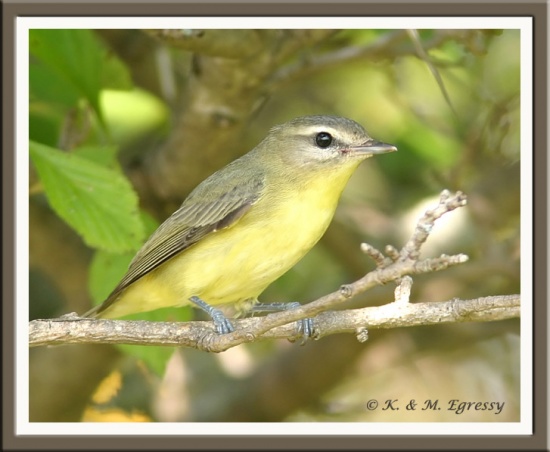 Identification
4.75 inches
Grayish-green above
Yellow below (pale at throat, deeper yellow on breast)
Thick bill has a hook on the upper mandible
Dark eye
White supercilium
Black line through and in front of the eye
Dark lores
Blue-grey legs

Sexes are similar
Similar Species
Warbling Vireo and Tennessee Warbler
Distribution
Canada and northernmost U.S. Winters in the tropics.
Taxonomy
Habitat
Open deciduous woodlands, streamside willows and alders, and areas regenerating after fires.
Behaviour
Breeding
An open-cup nest is built. Clutch Size:3-5 and incubation lasts 14 days. 12-14 days later the young fledge.
Diet
Diet: Primarily insects, some fruit.
Vocalisation
Song a broken series of slurred notes. Each phrase usually ends in either a downslur or an upswing, as if the bird asks a question, then answers it, over and over. May repeat same phrase twice or more in a row.
References
Clements, J. F., T. S. Schulenberg, M. J. Iliff, D. Roberson, T. A. Fredericks, B. L. Sullivan, and C. L. Wood. 2014. The eBird/Clements checklist of birds of the world: Version 6.9., with updates to August 2014. Downloaded from http://www.birds.cornell.edu/clementschecklist/download/
Avianweb
Cornell
External Links
Search the Gallery using the scientific name:
Search the Gallery using the common name:
GSearch checked for 2020 platform.