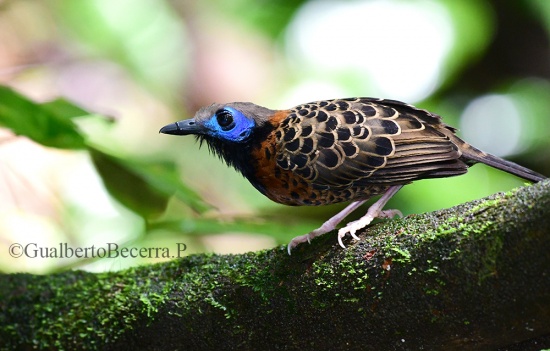 Identification
19–19·5 cm (7½-7¾ in)
Upperparts brown to reddish-brown with black spots, rufous collar, and crown that varies from grayish, to buffy to brown depending on subspecies. Side of head dominated by large bluish facial skin. Underside black with wide rufous fringes producing a spotted appearance. Tail black and relatively long; bill black, legs pale.
Distribution
Honduras, Nicaragua, Costa Rica, to Panama in Central America and Pacific slope of Ecuador and Colombia.
Taxonomy
Subspecies
Three subspecies are recognized by Clements1:
while Restall2 also gives range and description of chocoanus (included in mcleannani by Clements).
Habitat
Tropical Zone, moist forests in lowland and foothills. It is always found in undergrowth.
Behaviour
This species follows army ant swarms, foraging alone, and is rarely seen away from these. It will dominate any other antbird, which is also following the swarm. Not easily approached and moves quickly between perches and the ground. Has a habit of jerking the tail up and slowly lowering it.
Diet
Diet consists of insects and arthropods, as well as small lizards which are flushed by army ants in the neotropical forests.
Breeding
The male offers food to the female prior to mating.
Ground nester with the nest hidden at the base of a large tree. The clutch consists of 1-2 heavily speckled whitish eggs. It seems that the male and female incubate the eggs as both appear to have brood patches.
Vocalisation
Series of high penetrating whistles, first rising, then falling on the last few notes. Also gives buzzy calls.
References
Clements, J. F., T. S. Schulenberg, M. J. Iliff, D. Roberson, T. A. Fredericks, B. L. Sullivan, and C. L. Wood. 2017. The eBird/Clements checklist of birds of the world: v2017, with updates to August 2017. Downloaded from http://www.birds.cornell.edu/clementschecklist/download/
Restall et al. 2006. Birds of Northern South America. Yale University Press. ISBN 9780300124156
Academic Dictionaries and Encyclopedias
Ridgely & Gwynne 1989. Birds of Panama. Princeton Paperbacks. ISBN 0691025126
Handbook of the Birds of the World Alive (retrieved Nov 2017)
Recommended Citation
External Links