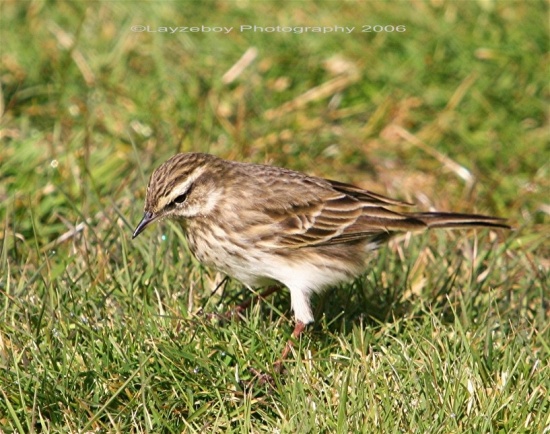 Alternative name: Australasian Pipit
Anthus novaeseelandiae
Identification
Length: 17–18 cm (6¾-7")
Brown head and upperparts, streaked darker, prominent white eyebrow. White underparts, streaked brown on the breast and the outer tail feathers are white.
Distribution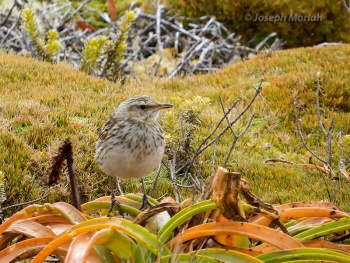 Taxonomy
This species was formerly a part of a much larger species called Anthus novaseelandiae which was split in African Pipit, Mountain Pipit, Paddyfield Pipit, Richard's Pipit, Australian Pipit and New Zealand Pipit. Some still consider this species conspecific with Australian Pipit.
Subspecies[1]
A. n. novaeseelandiae (reischeki):
Habitat
Rough grasslands, sand dunes and rocky terrain. Avoids agricultural areas.
Behaviour
Movement
Has the distinctive habit of flicking its long tail up and down. Long legs, jerky walk and often flies a short distance.
Diet
The diet is mainly invertebrates, especially beetles (including grass grubs), wasps, flies, spiders, crickets, moths and bugs, insect larvae and pupae and sandhoppers. They also take seeds of grasses, clover and weeds.
Breeding
Some pairs remain on territory all year and breed year after year. The female builds the bulky grass nest with a deep cup, which is usually well hidden at the base of a clump of grass, tussock, bracken fern, Manuka bush, or on the side of a bank. Between August and February 2-3 clutches of 2-5 cream eggs, heavily blotched brown with a darker zone at the broader end are laid. The female incubates for 14-15 days and both parents feed the nestlings which fledge at 14-16 days old.
Vocalisation
The common call is a shrill scree or drawn out zwee.
References
Clements, J. F., T. S. Schulenberg, M. J. Iliff, D. Roberson, T. A. Fredericks, B. L. Sullivan, and C. L. Wood. 2018. The eBird/Clements checklist of birds of the world: v2018. Downloaded from http://www.birds.cornell.edu/clementschecklist/download/
Beauchamp, A.J. 2013. New Zealand pipit. In Miskelly, C.M. (ed.) New Zealand Birds Online. http://www.nzbirdsonline.org.nz
Higgins, P.J.; Peter, J.M.; Cowling, S.J. (eds.) 2006. Handbook of Australian, New Zealand and Antarctic birds. Vol. 7, boatbill to starlings. Oxford University Press, Melbourne.
Schodde, R. & I.J. Mason, 1999. Directory of Australian birds. Passerines. CSIRO Publishing, Canberra.
Shirihai, H. 2008. Complete Guide to Antarctic Wildlife: Birds and Marine Mammals of the Antarctic Continent and the Southern Ocean. Princeton & Oxford: Princeton Univ. Press. ISBN 978-0691136660
Tyler, S. (2017). Australasian Pipit (Anthus novaeseelandiae). In: del Hoyo, J., Elliott, A., Sargatal, J., Christie, D.A. & de Juana, E. (eds.). Handbook of the Birds of the World Alive. Lynx Edicions, Barcelona. (retrieved from http://www.hbw.com/node/57767 on 25 February 2017).
Recommended Citation
External Links
GSearch checked for 2020 platform.1