This article is incomplete.
This article is missing one or more sections. You can help the BirdForum Opus by expanding it.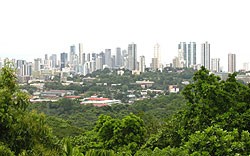 Overview
Next to the modern center of Panama City, the Metropolitan Natural Park is the only natural park in Central America within the limits of a metropolitan area.
The MNP was the first place in the planet where canopy studies were conducted using a construction crane.
With only 265 hectares (655 acres) the MNP have also 45 mammals, 36 reptiles and 14 amphibians.
Birds
Notable Species
46 species of bird migrate from North America to the MNP to complete the 227 bird list that make the MNP a must-to-visit if you come to Central America. Bird highlights are: Whooping Motmot, Green Shrike-vireo, Lance-tailed Manakin, Buff-breasted Wren, White-shouldered Tanager, Rosy Thrush-tanager, Orange-billed Sparrow.
Check-list
Birds you can see here include:
To do
Other Wildlife
Geoffrey's Tamarin, known locally as "Mono Titi" are common in the park and there are small Spectacled Caiman in the ponds.
Site Information
History and Use
To do
Areas of Interest
To do
Access and Facilities
4 km. (2.5 miles) of well signed trails, excellent interpretive system and is only 10 minutes by car from Panama City Downtown.
Contact Details
To do
External Links
Content and images originally posted by Frogdoondey
Reviews
Phaethon's review
For a close to the city birding experience I would bet this is one of the best sites in the world.
It's a habitat of forest (400h+/-) in an urban area so it is missing some of the birds of remote areas like Toucans and Macaws but it is a great appetizer for the main course of birding in Panama and is also a good spot for dry forest species. Pros
`convenient
no bugs
good forest
trails and birds
Cons
hot climate
city park and missing some diversity
David Kelly's review
A great park, accessible from central Panama City, I had good views of Slaty-tailed Trogon but the Ocelot being kept in a small cage was a bit dispiriting. A must do if you visit Panama City.