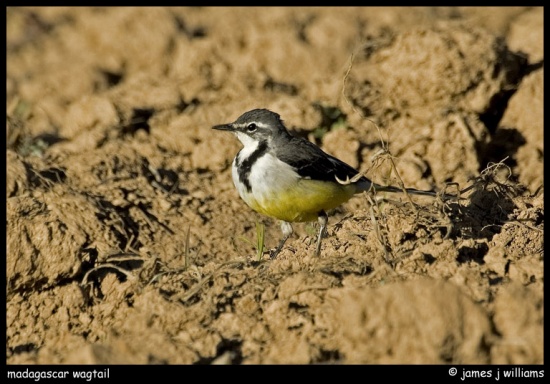 Motacilla flaviventris
Identification
19cm. The ony wagtail in Madagascar.
Grey head and upperparts
Narrow white supercilium
Small white crescent under eye
White throat and underparts, washed lemon-yellow on belly and flanks
Narrow black breastband
Females and immatures are paler than males.
Distribution
Endemic to Madagascar.
Common and widespread on the island, rare in the south.
Taxonomy
This is a monotypic species.
The described race icetria from south-central Madagascar is usually not accepted.
Habitat
Found near water in open areas, usually near lakes and rivers, in marshes, paddyfields and fish ponds. Also on beaches.
Occurs from sea-level up to 2600m.
Behaviour
Feeds mainly on insects and spiders, takes also other small invertebrates.
Forages on the ground, does sometimes flutter up and snatches an insect in the air.
Breeding season from August to November, usually two broods. The nest is a bulky structure made of twigs, stems and mosses. It's placed low in a tree fork, a bush, a rock crevice or under a house roof, usually near water. Lays 2 eggs, sometimes more.
Some movements recorded. Obviously leaves the high plateau in austral winter.
References
Clements, JF. 2011. The Clements Checklist of Birds of the World. 6th ed., with updates to August 2011. Ithaca: Cornell Univ. Press. ISBN 978-0801445019. Spreadsheet available at http://www.birds.cornell.edu/clementschecklist/downloadable-clements-checklist
Del Hoyo, J, A Elliot, and D Christie, eds. 2004. Handbook of the Birds of the World. Volume 9: Cotingas to Pipits and Wagtails. Barcelona: Lynx Edicions. ISBN 978-8487334696
Recommended Citation
External Links