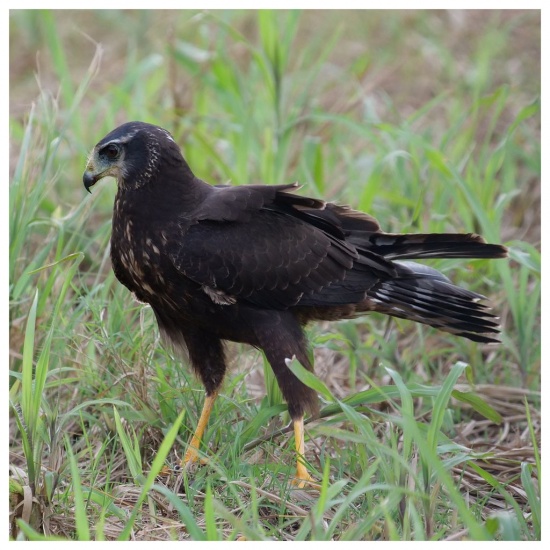 Circus buffoni
Identification
46–60 cm (18-23½ in); the largest harrier
It has an owl-like face and, when perched, the wing-tips almost reach the end of the tail.
There are two morphs:
The pale morph in flight shows almost white underparts, and a white rump.
The dark morph is dark below with no obvious white rump.
Flight
in flight, noticeably long wings and a long tail and with a rather elegant style.
Distribution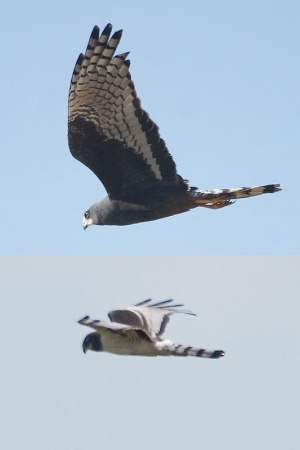 South America: occurs on Trinidad and Tobago, eastern Colombia, Venezuela and the Guianas.
Also breeds further south in eastern Chile, eastern Bolivia, Paraguay and Argentina.
Taxonomy
This is a monotypic species[1].
Habitat
Tropical lowlands, in open areas, wheat and rice fields; also lakes, marshes and flooded grasslands and mangroves.
Behaviour
Diet
Their diet consists of land and aquatic birds, reptiles (particularly lizards), frogs, and small mammals.
Movements
Resident. It is partly migratory and does move within this area.
References
Clements, J. F., T. S. Schulenberg, M. J. Iliff, D. Roberson, T. A. Fredericks, B. L. Sullivan, and C. L. Wood. 2018. The eBird/Clements checklist of birds of the world: v2018. Downloaded from http://www.birds.cornell.edu/clementschecklist/download/
Handbook of the Birds of the World Alive (retrieved October 2018)
Recommended Citation
External Links
GSearch checked for 2020 platform.1