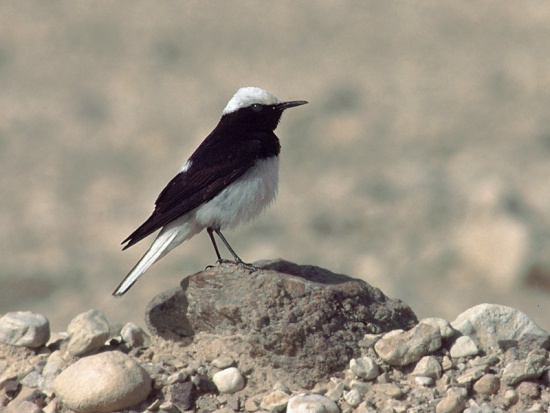 Oenanthe monacha
Identification
15.5-17 cm.
White crown and belly, black face, back and throat. The tail and rump are white with black central tail feathers.
The female is brown, becoming somewhat paler below.
Distribution
Eastern Egypt (east of the Nile) east through southern Israel and Saudi Arabia to Iran and southern Pakistan.
Taxonomy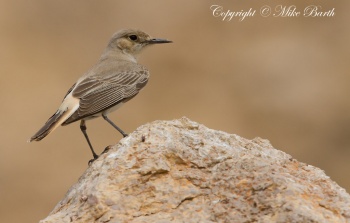 Formerly classed as a member of the thrush family (Turdidae), but is now (along with other wheatears and chats) considered to be an old world flycatcher (family Muscicapidae).
This is a monotypic species[1].
Habitat
Thinly vegetated desert with or without scattered shrubs. Often found in hotter, more arid sites than other wheatears[2].
Behaviour
Hooded Wheatear feeds on insects, often taken in the air. Its call is a whistled vit, and the song is a harsh chattering. The nest is built in a rock crevice, and 3-6 eggs is the normal clutch.
References
Clements, J. F., T. S. Schulenberg, M. J. Iliff, D. Roberson, T. A. Fredericks, B. L. Sullivan, and C. L. Wood. 2016. The eBird/Clements checklist of birds of the world: v2016, with updates to August 2016. Downloaded from http://www.birds.cornell.edu/clementschecklist/download/
Del Hoyo, J, A Elliot, and D Christie, eds. 2005. Handbook of the Birds of the World. Volume 10: Cuckoo-Shrikes to Thrushes. Barcelona: Lynx Edicions. ISBN 978-8487334726
Recommended Citation
External Links