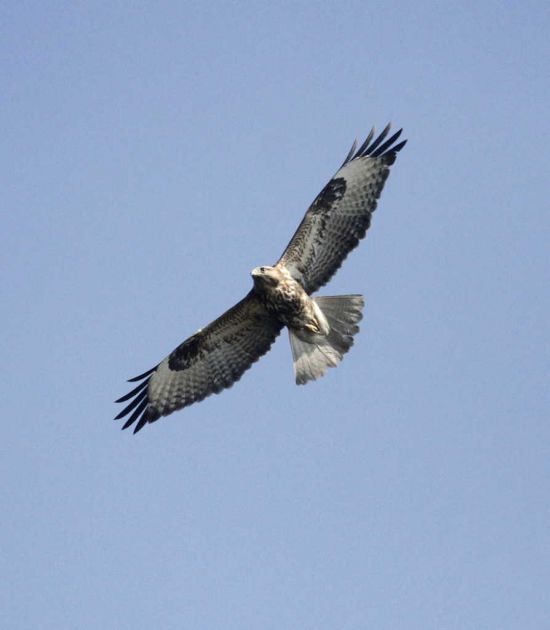 Buteo refectus
Identification
45–53 cm (17¾-21 in)
Brown overall plumage
Greyish-brown tail
Whitish streak over the eye
Blackish bill
Whitish underparts
Yellowish legs
Distribution
Found in the Himalayas from northeast Pakistan through India, Nepal and Bhutan. Also in adjacent southern Tibet.
Taxonomy
Formerly considered conspecific with Eastern Buzzard and Common Buzzard. Some authors call this species B. burmanicus
This is a monotypic species[1].
Habitat
Open fields and wetlands. Partially forested mountain sides, and cultivated slopes.
Behaviour
Diet
There is little known, but they are believed to eat rodents, small birds, reptiles and invertebrates. They hunt from a perch and also by hovering.
References
Clements, J. F., T. S. Schulenberg, M. J. Iliff, S. M. Billerman, T. A. Fredericks, B. L. Sullivan, and C. L. Wood. 2019. The eBird/Clements Checklist of Birds of the World: v2019. Downloaded from http://www.birds.cornell.edu/clementschecklist/download/
del Hoyo, J., Collar, N. & Marks, J.S. (2019). Himalayan Buzzard (Buteo refectus). In: del Hoyo, J., Elliott, A., Sargatal, J., Christie, D.A. & de Juana, E. (eds.). Handbook of the Birds of the World Alive. Lynx Edicions, Barcelona. (retrieved from https://www.hbw.com/node/467357 on 11 May 2019).
Birdforum thread: https://www.birdforum.net/showthread.php?t=132483
Recommended Citation
External Links