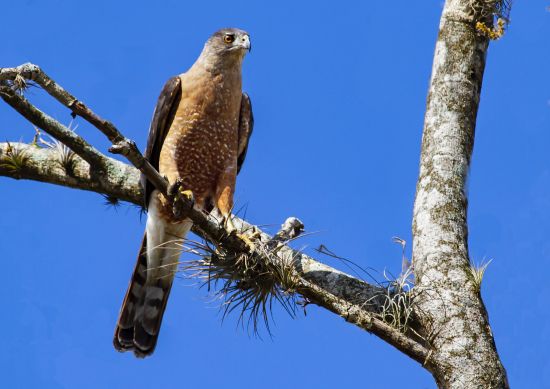 Accipiter gundlachi
Identification
40–46 cm (15¾-18 in). Appears intermediate in plumage between Cooper's Hawk and Bicolored Hawk.
Dark grey upperparts
Tail broadly banded light and dark grey
Blackish-grey cap contrasting with pale bill
Greyish-white flanks and undertail-coverts conspicuous against darker fine grey barring on rufous-brown thighs and belly
Females are slightly larger than males and have a longer tail. Immatures have brown upperparts with brown streaking below and spotting on underwing.
Similar species
Differs from Cooper's Hawk in grey breast, from Bicolored Hawk in grey-and-rufous barring on belly and thighs.
Distribution
Endemic to Cuba.
Has a very small range and a very fragmented population. Rare and local, estimated population c. 400 birds.
Taxonomy
Forms a superspecies with Cooper's Hawk and Bicolored Hawk.
Subspecies
Two subspecies recognized[1]:
Lowland forests of western and central Cuba
Lowland forests of eastern Cuba
Habitat
Found in different types of lowland forest.
Behaviour
Diet
Not well studied. Has been recorded to take parrots, pigeons and doves, nighthawks, crows, Northern Bobwhite, Red-legged Thrush and domestic fowl.
Females presumably take larger prey in or above the canopy, males capture smaller prey in the understorey.
Breeding
Not well known. Nest building recorded from January to April. The nest is build with sticks and placed 7-20 m up in a tree, usually close to the trunk. The nest is reused for several years. Lays 3 to 4 eggs.
Movements
This is a sedentary species.
References
Clements, J. F., T. S. Schulenberg, M. J. Iliff, S. M. Billerman, T. A. Fredericks, J. A. Gerbracht, D. Lepage, B. L. Sullivan, and C. L. Wood. 2021. The eBird/Clements checklist of Birds of the World: v2021. Downloaded from https://www.birds.cornell.edu/clementschecklist/download/
Handbook of the Birds of the World Alive (retrieved July 2014)
Recommended Citation
GSearch checked for 2020 platform.


External Links
Search the Gallery using the common name:

Search the Gallery using the scientific name:
GSearch checked for 2020 platform.