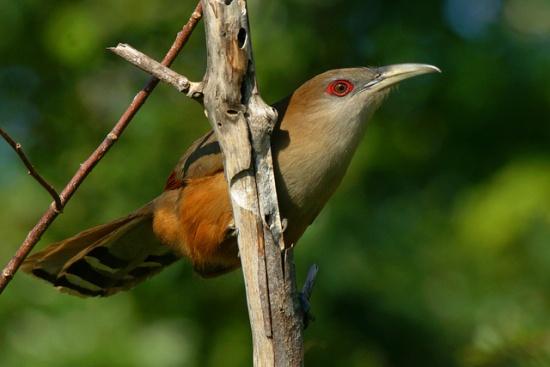 Alternative Name(s): Cuban Lizard Cuckoo
Coccyzus merlini
Identification
54cm.
Olive-brown upperparts with rufous primaries
Light grey breast
Rufous belly
Long grey tail with black subterminal band and broad white tips, all grey central rectrices
Red bare skin around eye
Grey to brown eye
Long straight bill, blackish above and paler below
bahamensis without rufous on primaries
decolor with greyish brown upperparts
santamariae with longer bill
Distribution
Cuba and the Bahamas.
Common to fairly common in its small range.
Used in traditional medicine for restoration of sexual powers and claimed effectiveness in convalescence.
Taxonomy
Four subspecies are recognized:
C. m. bahamansis on the Bahamas (Andros, New Providence and Eleuthera)
C. m. merlini in Cuba
C. m. santamariae on islands off north-central Cuba
C. m. decolor on Isle of Pines
Some authorities place this species in genus Saurothera.
Habitat
Wooded to bushy areas
Behaviour
A rather tame species.
Diet
Feeds on lizards and locusts.
May look for food both in trees and bushes and on the ground, where it will then walk or run with the tail held erect.
Breeding
The nest is a shallow saucer made of twigs and placed in a tree. Lays 2 to 3 eggs.
Movements
This is a resident species.
References
Clements, J. F., T. S. Schulenberg, M. J. Iliff, B.L. Sullivan, C. L. Wood, and D. Roberson. 2013. The eBird/Clements checklist of birds of the world: Version 6.8., with updates to August 2013. Downloaded from http://www.birds.cornell.edu/clementschecklist/download/
Del Hoyo, J, A Elliot, and J Sargatal, eds. 1997. Handbook of the Birds of the World. Volume 4: Sandgrouse to Cuckoos. Barcelona: Lynx Edicions. ISBN 978-8487334221
Recommended Citation
External Links