Alternative name: Buffon's Macaw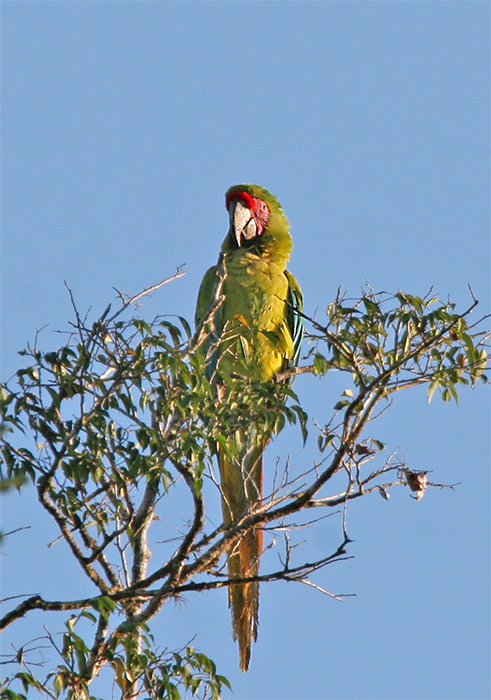 Ara ambiguus

Ara ambigua
Identification
85–90 cm (33½-35½ in)
They have extremely long tails and large seed-cracking beaks. They are mainly green with blue in their wings and red on their forehead. Their bare facial skin has lines, usually black.
Similar Species
Larger than Military Macaw
Distribution
Central and northern South America: found from Honduras to northern Colombia, but there are large gaps in their occurrence. A small number of these macaws belonging to a distinct subspecies with smaller bill also lives in Ecuador.
Great Green Macaws are endangered.
Taxonomy
The scientific name was formerly spelled ambigua.
Subspecies
There are 2 subspecies[1]:
Western Ecuador and adjacent south-western Colombia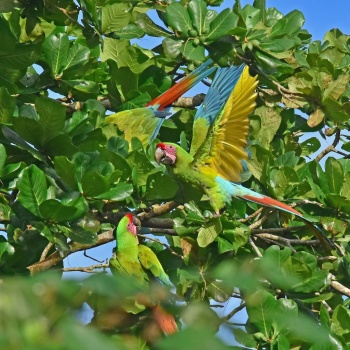 Habitat
They inhabit the canopy of lowland rainforests. As a result of deforestation and clear-cutting, the macaws are now often seen flying over pastures to reach Dipteryx trees in the middle of an open pasture.
Behaviour
Macaws are very rarely not seen in groups. They are almost always extremely loud while feeding and flying.
Diet
Great Green Macaws are generally seen feeding in small groups of up to 10 birds flying around looking for Dipteryx trees that have fruit. These noisy flocks will land on a fruiting tree and sit on it for hours at a time.
References
Clements, J. F., T. S. Schulenberg, M. J. Iliff, D. Roberson, T. A. Fredericks, B. L. Sullivan, and C. L. Wood. 2016. The eBird/Clements checklist of birds of the world: v2016, with updates to August 2016. Downloaded from http://www.birds.cornell.edu/clementschecklist/download/
Handbook of the Birds of the World Alive (retrieved July 2014)
Recommended Citation
External Links
GSearch checked for 2020 platform.1