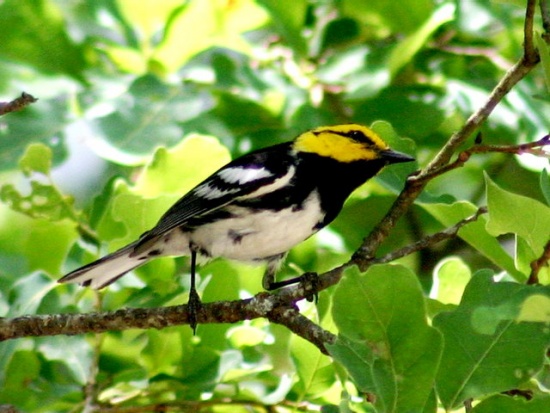 Setophaga chrysoparia
Dendroica chrysoparia
Identification
14 cm
Yellow cheek, divided by a black eye-line. No yellow on underparts. Male: black above with black bib, crown and black-streaked sides. White belly and 2 white wing-bars.
Female and immature male: duller with dark streaks on olive upperparts, chin white or yellowish, with sides of throat streaked. Immature female has less black on underparts.
Similar Species
No yellow on underparts, distinguishing it from the similar Black-throated Green and Townsend's Warblers.
Distribution
Endemic to the Edwards Plateau in the central Texas Hill Country. Winters in the highlands of southern Mexico south to Nicaragua and as a vagrant further south to Panama.
Status
Endangered due to small and fragmented breeding range.
Taxonomy
This is a monotypic species[1], which was formerly placed in genus Dendroica.
Habitat
Mixed juniper-pinyon-oak woodland on the Edwards Plateau in the Texas Hill Country.
Behaviour
Diet
Diet is insectivorous.
Vocalisation
Song - 5 buzzy notes, ending on a high note. Call note: teck.
References
Clements, J. F., T. S. Schulenberg, M. J. Iliff, B.L. Sullivan, C. L. Wood, and D. Roberson. 2013. The eBird/Clements checklist of birds of the world: Version 6.8., with updates to August 2013. Downloaded from http://www.birds.cornell.edu/clementschecklist/download/
Avibase
BirdLife International
Recommended Citation
External Links