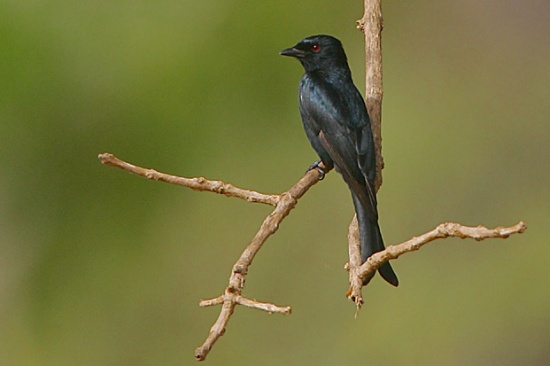 Dicrurus divaricatus
Identification
23–26 cm (9-10 in)
Described as smaller than Fork-tailed Drongo with pale grey-buff inner webs of flight-feathers and a shallower tail fork.
Distribution
Sub-Saharan Africa. Southwestern Mauritania south to Guinea , east to Niger and northeastern Nigeria (Lake Chad), east to Ethiopia, Eritrea, and Somalia, south to northern Democratic Republic of the Congo, northern Uganda, and northern Kenya.
Taxonomy
Formerly regarded as conspecific with Fork-tailed Drongo.
Subspecies
Two subspecies recognized[1]:
Habitat
Savannah and forest.
Behaviour
Presumably similar to Fork-tailed Drongo
Movements
Resident.
References
Clements, J. F., T. S. Schulenberg, M. J. Iliff, S. M. Billerman, T. A. Fredericks, B. L. Sullivan, and C. L. Wood. 2019. The eBird/Clements Checklist of Birds of the World: v2019. Downloaded from http://www.birds.cornell.edu/clementschecklist/download/
Rocamora, G. and D. Yeatman-Berthelot (2020). Glossy-backed Drongo (Dicrurus divaricatus), version 1.0. In Birds of the World (S. M. Billerman, B. K. Keeney, P. G. Rodewald, and T. S. Schulenberg, Editors). Cornell Lab of Ornithology, Ithaca, NY, USA. https://doi.org/10.2173/bow.fotdro4.01
Fuchs, J, De Swardt, DH, Oatley, G, Fjeldså, J, Bowie, RCK. (2018) Habitat‐driven diversification, hybridization and cryptic diversity in the Fork‐tailed Drongo (Passeriformes: Dicruridae: Dicrurus adsimilis). Zool Scr. 47:266– 284. https://doi.org/10.1111/zsc.12274
Recommended Citation
External Links