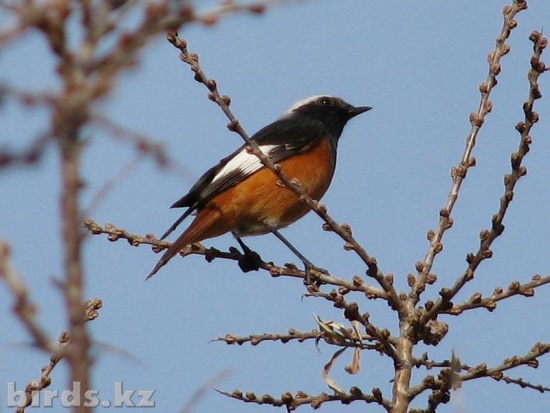 Alternative name: White-winged Redstart
Phoenicurus erythrogastrus
Identification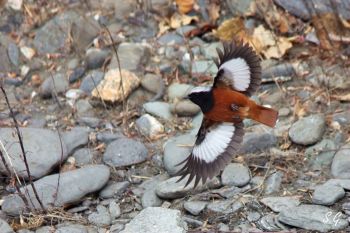 18 cm (7 in)
Male
Black face, upper breast, back and wings
Red rump and tail
Reddish-orange underparts
Distribution
Asia, where resident or moving short distances altitudinally at high altitudes in the Caucasus, the Himalaya, and central Asian mountains. Present in the following countries: Russia, Kazakhstan, Tajikistan, Afghanistan, Mongolia, China, Tibet, Nepal, Pakistan, India, Bhutan.
Taxonomy
Regarding the name of this species: about half the world checklists use Güldenstädt's Redstart and the other half use White-winged Redstart.
Subspecies
Two subspecies are recognized[1]:
Caucasus Mountains to southern Caspian region of Iran
Habitat
High rocky mountain slopes, breeding at 3,600-5,500 metres, descending only to 1,500-4,800 metres in winter. Gravel fields at the bottom of steep cliffs.
Behaviour
Prefers rocky alpine meadows in summer, and sea-buckthorn (Hippophae spp.) thickets in winter, where it feeds on the berries.
Diet
Through the summer their diet is almost entirely insectivorous, particularly moths and spiders; moving on to berries in the winter.
Breeding
They place their nest inside a crevice. It is a bulky structure made from grass and roots. The cup is lined with hair and feathers.
References
Clements, J. F., T. S. Schulenberg, M. J. Iliff, D. Roberson, T. A. Fredericks, B. L. Sullivan, and C. L. Wood. 2015. The eBird/Clements checklist of birds of the world: v2015, with updates to August 2015. Downloaded from http://www.birds.cornell.edu/clementschecklist/download/
Avibase
BF Member observations
Recommended Citation
External Links
GSearch checked for 2020 platform.