This article is incomplete.
This article is missing one or more sections. You can help the BirdForum Opus by expanding it.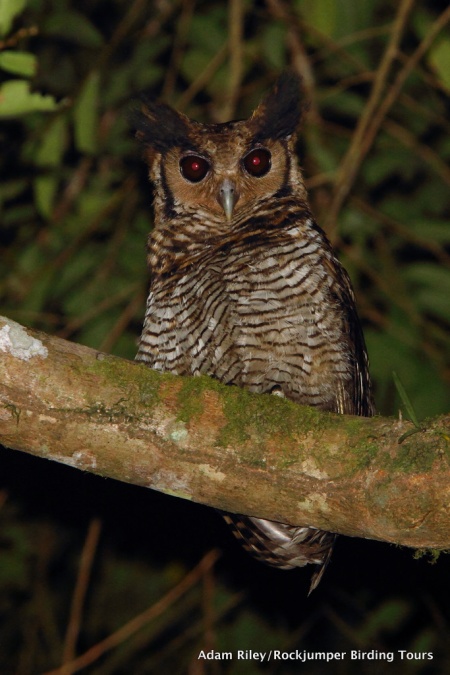 Includes Usambara Eagle-Owl = Nduk Eagle-Owl
Ketupa poensis
Identification
A relatively small eagle owl at 39-44 cm (poensis)
Strong ear tufts
Upperside buffy-brown with dark barring
Scapulars form a row of creamy to buffy spots
Underside pale with brown bars
Facial disk rufous
Iris brown to dark brown
Variation
Subspecies vosseleri has irides yellow to orange or orange-brown and is overall larger with browner upperside.
Distribution
Africa:
Western Africa: Guinea, Sierra Leone, Liberia, Ivory Coast, Ghana, Nigeria, Cameroon, Central African Republic, Equatorial Guinea, Gabon, Congo, Democratic Republic of Congo, Angola and Zaire; additionally, seemingly allopatric in northeast Tanzania (Usambara and Uluguru Mts.)
Eastern Africa: Uganda, Rwanda and Tanzania
African Islands: Gulf of Guinea Islands: Bioko
Taxonomy
Subspecies vosseleri was formerly considered a full species under the name of Usambara Eagle-Owl, however, the vocalizations seem rather identical.
Subspecies
Two subspecies are recognized[1].
Rainforests of Liberia to western Uganda and northwest Angola as well as Bioko
northeast Tanzania (Usambara and Uluguru Mts.)
Habitat
A variety of humid forests in elevations from almost sea level to 2200 m asl (with regional variation). It seems to avoid the deepest center of old forests and are more frequent not too far from edges.
Behaviour
Food includes both invertebrates and small vertebrates including both mammals, birds and reptiles.
Main vocalization is a 3-5 second long trill with purring quality.
References
Clements, J. F., T. S. Schulenberg, M. J. Iliff, T. A. Fredericks, J. A. Gerbracht, D. Lepage, S. M. Billerman, B. L. Sullivan, and C. L. Wood. 2022. The eBird/Clements checklist of Birds of the World: v2022. Downloaded from https://www.birds.cornell.edu/clementschecklist/download/
Gill, F, D Donsker, and P Rasmussen (Eds). 2023. IOC World Bird List (v 13.1)_red. Doi 10.14344/IOC.ML.13.1. http://www.worldbirdnames.org/
Holt, D. W., R. Berkley, C. Deppe, P. L. Enríquez, J. L. Petersen, J. L. Rangel Salazar, K. P. Segars, K. L. Wood, J. S. Marks, and G. M. Kirwan (2022). Fraser's Eagle-Owl (Ketupa poensis), version 2.0. In Birds of the World (S. M. Billerman, P. Pyle, and N. D. Sly, Editors). Cornell Lab of Ornithology, Ithaca, NY, USA. https://doi.org/10.2173/bow.fraeao1.02
Recommended Citation
External Links
GSearch checked for 2020 platform.1