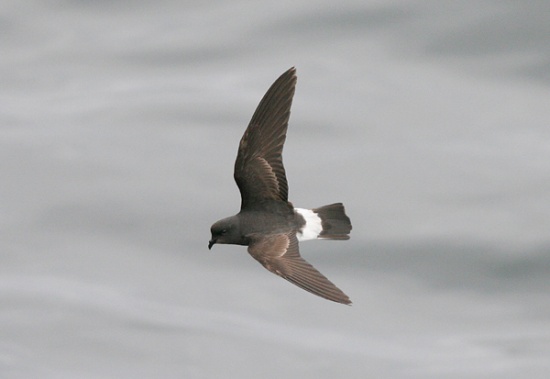 Hydrobates pelagicus
Identification
15-16cm.
Dark plumage
White rump
Dark iris
Dark bill
Dark legs and feet
Distribution
As a breeding bird this species is confined to the north-east Atlantic and Mediterranean with the bulk of the population in colonies on the west coasts of Britain and Ireland. There are smaller colonies to the north in southern Iceland; the Faroes and Lofoten Islands off Norway. Also breeds in the Channel Islands and off north-west and western France. In the Mediterranean there are colonies on the Balearics, and off southern Spain, Corsica and Sardinia, Sicily and Malta and there is a single colony in the Aegean.
Breeding formerly occurred off Tunisia and has been reported from Canary Islands and Desertas but present status there is little-known. May also breed in Morocco.
It is not known where they spend the winter season.
Taxonomy
Subspecies
There are 2 subspecies[1]:
H. p. pelagicus in the Atlantic
H. p. melitensis in the Mediterranean
Some authors have suggested these should be split as separate species.
Habitat
Breeds mainly on islands, sometimes on undisturbed mainland coasts.
Pelagic when not breeding and rarely seen from shore, only seen on land after being storm-driven.
Behaviour
Breeding
Breeds colonially in burrows and rock crevices. A single white egg is laid. Nocturnal when visiting nest.
Diet
The diet includes plankton taken from the sea's surface.
Vocalisation
References
Clements, J. F., T. S. Schulenberg, M. J. Iliff, B.L. Sullivan, C. L. Wood, and D. Roberson. 2012. The eBird/Clements Checklist of Birds of the World. 6th ed., with updates to October 2012. Ithaca: Cornell Univ. Press. ISBN 978-0801445019. Spreadsheet available at http://www.birds.cornell.edu/clementschecklist/downloadable-clements-checklist
Wikipedia
Recommended Citation
External Links