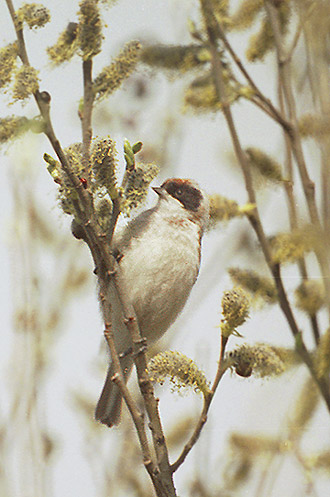 Remiz pendulinus
Identification
10–11 cm (4-4¼ in)
Light grey head and nape
Black mask
Reddish-brown upperparts
White to orangey-buff underparts
Male has reddish breast spots
Female has a narrower facial mask
Distribution
Throughout much of Eurasia. Has bred in Belgium and Finland.
A rare visitor to Britain, but becoming more regular.
Taxonomy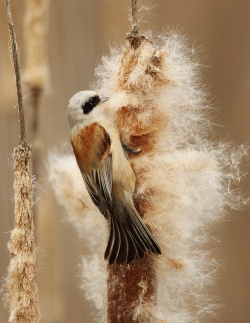 Subspecies
There are 4 subspecies[1]:
North-western Kazakhstan (Volga and Ural plains) to Caspian Sea
Habitat
Reed beds, ponds and ditches.
Behaviour
Diet
Their diet consists mostly of small insects and invertebrates, their eggs and larvae. They also eat some seeds.
Breeding
Polygamous.The nest is suspended from a branch and is made from wool, animal hair, soft plant materials bound with spiders' web. The eggs may be deserted by both adults, while they go in search of another partner.
Vocalisation
Gallery
Click on images to enlarge
References
Clements, J. F., T. S. Schulenberg, M. J. Iliff, D. Roberson, T. A. Fredericks, B. L. Sullivan, and C. L. Wood. 2015. The eBird/Clements checklist of birds of the world: v2015, with updates to August 2015. Downloaded from http://www.birds.cornell.edu/clementschecklist/download/
Collins Field Guide 5th Edition
Handbook of the Birds of the World Alive (retrieved January 2016)
Animalfacts.net
Wikipedia
BirdGuides
Recommended Citation
External Links
GSearch checked for 2020 platform.1