This article is incomplete.
This article is missing one or more sections. You can help the BirdForum Opus by expanding it.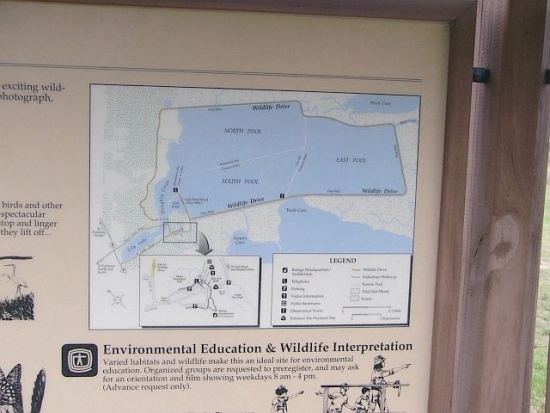 Overview
Brigantine, New Jersey. One of the premier birding spots on the Eastern coast of the USA. Highly recommended any time of year; fall migration is outstanding. Acres and acres of woodland trails, salt marsh, brackish and freshwater habitat.
Guided tours, car path, several lookout towers. Raptor nesting platforms, 4 seasons of birding interest. There is a gift shop and nature center, public bathrooms.
Birds
Notable Species
There is a hummingbird/wildlife garden, Purple Martin nesting colonies.
Highlights of this NWR include: Black-crowned Night Heron, Glossy Ibis, Great Egret, Mute Swan, Peregrine Falcon, Snowy Egret , Northern Bobwhite, Ipswich Savanna Sparrow, Bobolink, Marsh Wren.
Rarities
Rarities recorded at Forsythe include (numbers are for last 30 years): Black-bellied Whistling-Duck (1 record), Fulvous Whistling-Duck (1 record), Cinnamon Teal (1 record), Garganey (2 records), Common Teal (1 record), Eared Grebe (1 record), Reddish Egret (1 record), White Ibis (3 records), White-faced Ibis (13 records), Gyrfalcon (5 records), Yellow Rail (1 record), Purple Gallinule (6 records), Wilson's Plover (3 records), Spotted Redshank (3 records), "Eurasian" Whimbrel (1 record), Long-billed Curlew (2 records), Black-tailed Godwit (1 record), Bar-tailed Godwit (1 record), Red-necked Stint (1 record), Little Stint (1 record), Sooty Tern (2 records), Pacific Slope/Cordilleran Flycatcher (1 record), Say's Phoebe (1 record), Gray Kingbird (1 record), Scissor-tailed Flycatcher (3 records), Fork-tailed Flycatcher (3 records), Cave Swallow (1 record), Northern Wheatear (4 records), Mountain Bluebird (1 record), Black-throated Gray Warbler (1 record), Townsend's Warbler (1 record), Western Tanager (1 record),
Check-list
Birds you can see here include:
To do
Other Wildlife
To do
Site Information
History and Use
To do
Areas of Interest
To do
Access and Facilities
To do
Contact Details
To do
External Links
Content and images originally posted by stephennj