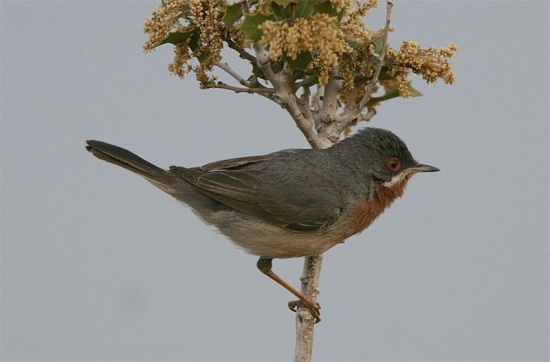 Curruca cantillans
Identification
12cm (4¾ in)
Adult male
Grey back and head
Brick-red underparts
White malar streaks
Female has mainly brown upperparts with a greyer head. Whitish below with a pink flush.
Variation: males of the subspecies may or may not be identifiable in spring[7].
Distribution
Europe, Africa, and Middle East
Europe: Italy, Slovenia, Croatia, Yugoslavia, Montenegro, Serbia, Albania, Macedonia, Greece, Crete, Corfu, Lesvos, Rhodes, Bulgaria, Romania, and Moldova. Found outside these areas on migration or as vagrants.
Africa: wintering population in the areas surrounding the Sahara.
Middle East: Breeds in Turkey and Cyprus, visits other areas during migration.
Vagrants regularly arrive in the British Isles, particularly in the Spring.
Taxonomy
Moltoni's Warbler and Western Subalpine Warbler were formerly considered conspecific with this species.
Subspecies
Two subspecies are recognized[1].
breeds Italy (except for Sardinia); winter range not well-defined, presumably in western Sahara and western Sahel
Habitat
Breeds in a variety of habitats, from open woodland to bushes and sandy heaths.
Behaviour
Breeding
The nest is built in thick bushes. Three to five eggs are laid.
Diet
Mainly insects, but will eat berries on occasion.
Vocalisation
Call: similar to Lesser Whitethroat's tett
Song: Clear and slow chattering and bouncy phrases, reminiscent of Eurasian Linnet. Delivered in 'song flight' or from a bush.
References
Clements, J. F., T. S. Schulenberg, M. J. Iliff, S. M. Billerman, T. A. Fredericks, J. A. Gerbracht, D. Lepage, B. L. Sullivan, and C. L. Wood. 2021. The eBird/Clements checklist of Birds of the World: v2021. Downloaded from https://www.birds.cornell.edu/clementschecklist/download/
Birdforum thread discussing the status of Moltoni's Warbler
Avibase
Collins Field Guide 5th Edition
Collins Bird Guide ISBN 0 00 219728 6
Birdforum thread discussing subspecies identification
Recommended Citation
External Links
GSearch checked for 2020 platform.