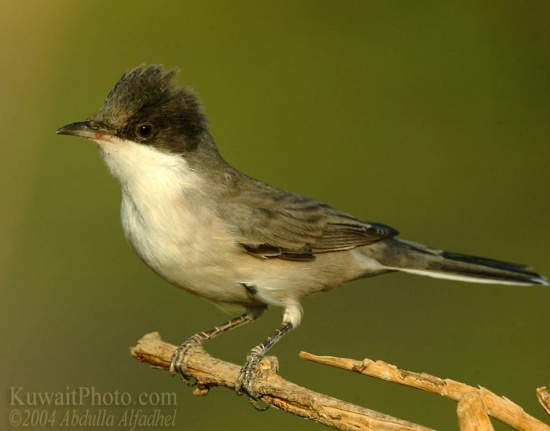 Curruca crassirostris
Sylvia crassirostris
Identification
Long pointed bill
Black legs

Adult males
Plain grey back and whitish underparts
dark grey head
Black eye mask
White throat
Iris may be white but is dark in most individuals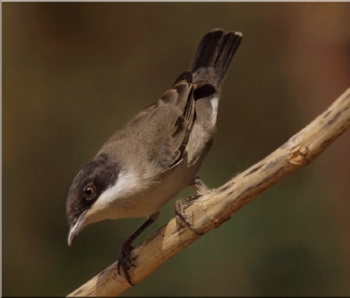 Females and immatures
Brownish-grey back
Paler head and buff underparts
Iris is dark in many if not most
Similar species
More varied song, pinker belly, and sometimes more strongly marked hood than the very similar Western Orphean Warbler.
Distribution
Breeds in the eastern Mediterranean (from Slovenia east) through the Balkan peninsula to Turkey, the Middle East, Turkmenistan, Iran, Pakistan to Tajikistan and Kyrgyzstan.
Taxonomy
This is a polytypic species[1] consisting of 3 subspecies.
This species was formerly lumped with Western Orphean Warbler to Orphean Warbler.
Subspecies
Habitat
Open deciduous woodland.
Behaviour
A Migratory species.
Breeding
The nest is build in a tree or bush; the clutch consists of 4-6 eggs.
Diet
The diet consists mostly of insects.
References
Clements, J. F., T. S. Schulenberg, M. J. Iliff, S. M. Billerman, T. A. Fredericks, J. A. Gerbracht, D. Lepage, B. L. Sullivan, and C. L. Wood. 2021. The eBird/Clements checklist of Birds of the World: v2021. Downloaded from https://www.birds.cornell.edu/clementschecklist/download/
Birdforum thread discussing some aspects of id of Eastern Orphean Warbler
Wikipedia
Recommended Citation
External Links
Search by scientific name:
Search by common name:
GSearch checked for 2020 platform.