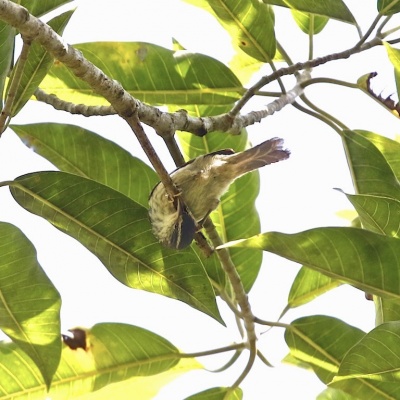 Xenerpestes minlosi
Identification
11–12 cm (4¼-4¾ in) Male and female similar.
Upperside dark grey
Underside pale
White supercilium
Two white wing bars
Graduated tail
Similar species
Immediate impression is similar to a warbler, but it has a stronger bill
Distribution
Central and South America
Central America: occurs only in Panama
South America: Colombia and Ecuador
Taxonomy
Subspecies
There are 2 subspecies[1]:
Pacific lowlands of Colombia
Habitat
Lowland and foothill forests, second growth and disturbed areas. Occurs to around 1000 m asl. It is mainly found in the middle section of the forest, more rarely in canopy or very low.
Behaviour
Diet
Will often feed in wine tangles where it sometimes hangs head down to reach its food. Their diet consists mostly of arthropods.
Breeding
There is no confirmed information about breeding.
Gallery
Click on photo for larger image
References
Clements, J. F., T. S. Schulenberg, M. J. Iliff, D. Roberson, T. A. Fredericks, B. L. Sullivan, and C. L. Wood. 2017. The eBird/Clements checklist of birds of the world: v2017, with updates to August 2017. Downloaded from http://www.birds.cornell.edu/clementschecklist/download/
Avibase
Angher and Dean, The Birds of Panama
Handbook of the Birds of the World Alive (retrieved Apr 2018)
Recommended Citation
External Links