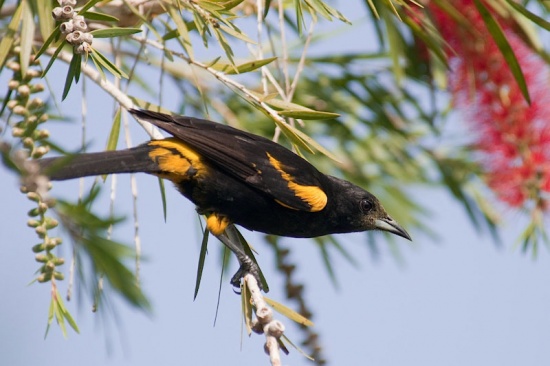 Icterus melanopsis
Identification
Adult
Black
Yellow on rump, vent and shoulders
Immatures
Non-descript buffy-brownish and can be confusing compared to both adults and other oriole species.
Similar species
Has black upper-tail coverts in contrast to Hispaniolan Oriole.
Distribution
Found on Cuba and adjacent Isle of Pines.
Taxonomy
This is a monotypic species.
It was formerly a part of Greater Antillean Oriole.
Habitat
Often found near palms from sea level up to mid elevation.
Behaviour
Palms are used both for nesting and for foraging.
Diet
Food includes fruit, nectar, insects, and flowers.
Vocalisation
Song activity just after dawn but is not common.
References
Recommended Citation
External Links
GSearch checked for 2020 platform.1