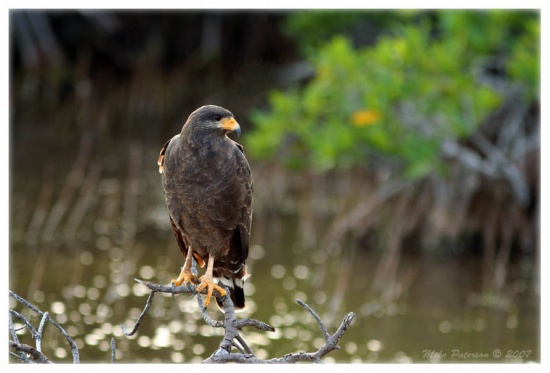 Buteogallus gundlachii
Identification
Length: 43–52 cm. (17-20½ in.)
Similar to Common Black Hawk. Differs in smaller size, overall browner plumage with conspicuous pale feather tips, larger white underwing patch, faint pale malar stripe, lack of rufous in wing panel and different vocalisations.
Distribution
Endemic to Cuba and Isle of Pines.
Taxonomy
This is a monotypic species[1].
Formerly classified as a subspecies of Common Black Hawk.
Habitat
Mostly near coast in and adjacent to mangrove forest; less often seen on sandy beaches. Mainly in lowland near swamps and small islands, both in coastal forest and more open areas.
Behaviour
Actions
Flight: likes to alternate flapping and gliding, even though it can soar.
Breeding
Nests from January through June. Seven of eight nests examined from mid- to late May 1996–1998 contained eggs, and one had a nestling.
Diet
Scans for prey from perch in tree or from ground. Feeds heavily on crabs, also fish carrion, rodents and lizards.
Vocalisations
Alarm call is a repeated series of three (rarely four) short whistles, with emphasis on first two.
References
Clements, J. F., T. S. Schulenberg, M. J. Iliff, D. Roberson, T. A. Fredericks, B. L. Sullivan, and C. L. Wood. 2018. The eBird/Clements checklist of birds of the world: v2018. Downloaded from http://www.birds.cornell.edu/clementschecklist/download/
Gill, F & D Donsker (Eds). 2018. IOC World Bird List (v8.2). doi : 10.14344/IOC.ML.8.2. Available at http://www.worldbirdnames.org/
Wiley, J.W.; Garrido, O.H. 2005. Taxonomic status and biology of the Cuban Black-hawk, Buteogallus anthracinus gundlachii (Aves: Acciptridae). The Journal of Raptor Research 39:351–364.
del Hoyo, J., Collar, N., Marks, J.S. & Sharpe, C.J. (2018). Cuban Black Hawk (Buteogallus gundlachii). In: del Hoyo, J., Elliott, A., Sargatal, J., Christie, D.A. & de Juana, E. (eds.). Handbook of the Birds of the World Alive. Lynx Edicions, Barcelona. (retrieved from https://www.hbw.com/node/467354 on 10 December 2018).
Recommended Citation
External Links