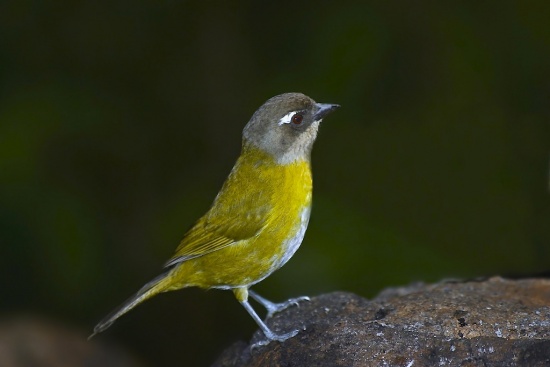 Alternative name: Common Chlorospingus
Chlorospingus flavopectus
Identification
13.5 cm
Olive upperparts
Yellow underpaarts
White belly
Brown head
Thin supercilium
Light throat
White spot behind eye
Colour of cheek, throat and eye area varies across range

Juvenile
Brown upperparts
Darker below
Dull olive eye spot
Variation
The size or even presence of white area behind the eye varies geographically. A population be SW Ecuador that lacks the white area completely also deviated by having very pale eyes.
Distribution
Central Mexico to Bolivia and northwest Argentina.
Taxonomy
The scientific name was formerly Chlorospingus ophthalmicus.
Subspecies
There are 26 subspecies[1]:
C. f. ophthalmicus: South-eastern Mexico (northern Vera Cruz and southern San Luis Potosí to western Chiapas)
C. f. albifrons: Sierra Madre del Sur of south-western Mexico (Guerrero and Oaxaca)
C. f. wetmorei: South-eastern Mexico (Sierra de Tuxtla in Veracruz)
C. f. dwighti: Caribbean slope of southern Mexico (Chiapas) and eastern Guatemala; population in Belize presumably also this subspecies
C. f. persimilis: Southern Mexico (southern Oaxaca)
C. f. postocularis: Pacific slope of southern Mexico (Chiapas) and western Guatemala
C. f. honduratius: Subtropical El Salvador and Honduras
C. f. regionalis: Subtropical Nicaragua south through Costa Rica to western Panama (west of the summit of Volcán Barú)
C. f. novicius: Western Panama (western Chiriquí, east of the summit of Volcán Barú [Volcán de Chiriquí])
C. f. punctulatus: Highlands of western Panama (Veraguas and Coclé)
C. f. falconensis: North-western Venezuela (San Luis Mountains and Sierra de Aroa)
C. f. jaqueti: Western slope of Easterm Andes of north-eastern Colombia and northern Venezuela
C. f. venezuelanus: Andes of south-western Venezuela (Lara, Mérida and Táchira)
C. f. exitelus: Colombia (eastern slope of Western Andes and Central Andes in Antioquia)
C. f. nigriceps: Subtropical and lower temperate Andes of Colombia
C. f. eminens: Eastern Andes of north-eastern Colombia (Norte de Santander and Boyacá)
C. f. olsoni: East slope of the Eastern Andes of Colombia (Boyacá, Caanare, and Cundinamarca)
C. f. trudis: Colombia (western slope of Andes of Santander at La Pica)
C. f. macarenae: Eastern Colombia (Macarena Mountains)
C. f. flavopectus: Eastern Andes of Colombia (southern Santander and western Cundinamarca)
C. f. phaeocephalus: Subtropical mountains of eastern and western Ecuador
C. f. hiaticolus: Central Peru
C. f. cinereocephalus: Subtropical central Peru (Junín)
C. f. peruvianus: Subtropical southern Peru (Puno)
C. f. bolivianus: West-central Bolivia (Cochabamba and La Paz)
C. f. fulvigularis: Central Bolivia (southern Cordillera de Cochabamba)
C. f. argentinus: Central Bolivia (upper Río Mizque) to northern Argentina (Tucumán)
Some authorities expect that this species will be split into two, one for Central and one for South America[1]
Habitat
Rain forests, in tangles of bushes and thickets.
Behaviour
Diet
The diet includes insects, spiders, small fruits and nectar.
Breeding
The cup nest is built from twigs, roots, leaves and mosses, lined with leaves and fibres. The clutch consists of 1-3 white eggs, with puce and maroon spots, incubated by the female. Both parents feed the young.
Vocalisation
Call: squeaky tseeet or chit.
References
Clements, J. F., T. S. Schulenberg, M. J. Iliff, D. Roberson, T. A. Fredericks, B. L. Sullivan, and C. L. Wood. 2017. The eBird/Clements checklist of birds of the world: v2017, with updates to August 2017. Downloaded from http://www.birds.cornell.edu/clementschecklist/download/
Birdforum thread discussing taxonomy of Common Bush Tanager
Wikipedia
Recommended Citation
External Links