Alternative name: Clay-colored Robin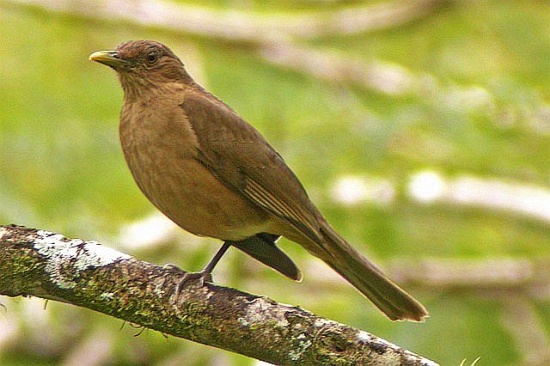 Turdus grayi
Identification
23–26.5 cm (9-10.5 in)
Brown
Paler underparts, lighter flanks
Streaked throat
Greenish-yellow bill
Pinkish (or flesh-colored) legs
Red iris

Females a little larger than males
Distribution
North, Central and South America
North America: found only in Texas
Central America: Mexico, Guatemala, Belize, El Salvador, Honduras, Nicaragua, Costa Rica and Panama
South America: Colombia South Texas, Mexico, northern Colombia, and Costa Rica.
Taxonomy
Subspecies
Nine subspecies are recognized[1]:
Tropical eastern Mexico (southern Tamaulipas to Yucatán Peninsula and northern Chiapas)
Eastern Mexico (Santa María del Río region of San Luis Potosí)
Caribbean lowlands of eastern Mexico (eastern Tamaulipas south to northern Oaxaca and Tabasco) south to Honduras
southeastern Mexico (Yucatan Peninsula), and presumably also northern Belize
southern Mexico (southeastern Oaxaca and adjacent Chiapas, also interior of Chiapas) at least to the border with Guatemala
Southern Mexico (southern Chiapas) and northwestern Guatemala
Coastal northern Colombia (Barranquilla to Santa Marta Peninsula)
Subspecies incomptus along with lanyoni, yucatanensis and linnaei are not recognised by all authorities[2].
Habitat
Widespread in a variety of habitats including evergreen tropícal forests and forest edges, garden lawns, shrubs and pastures.
Behaviour
Diet
The diet includes fruit and invertebrates.
Breeding
Its nest is a cup made from grass, moss, and mud. 1-3 pale blue, red-brown and grey marked eggs are laid with the average above to, but it is only the rare pair that fledges more than two young. It sometimes produces 2 broods.
At the local level, singing is highly synchronized, but at the regional level, timing of breeding can vary between one location and the next.
References
Clements, J. F., T. S. Schulenberg, M. J. Iliff, S. M. Billerman, T. A. Fredericks, J. A. Gerbracht, D. Lepage, B. L. Sullivan, and C. L. Wood. 2021. The eBird/Clements checklist of Birds of the World: v2021. Downloaded from https://www.birds.cornell.edu/clementschecklist/download/
Morton & Stutchbury (2001): Behavioral Ecology of Tropical Birds. Academic Press. ISBN 0-12-675556-6
Wikipedia
Recommended Citation
External Links
GSearch checked for 2020 platform.