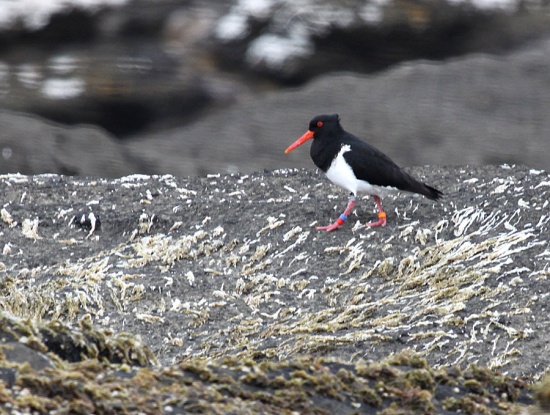 Haematopus chathamensis
Identification
48 cm
A distinctive black and white oystercatcher with a long tapering orange-red bill and thick, short pink-red legs. Slight smudging of colours in the border of the chest feathers.
Juvenile: deeply speckled underparts, white tail band.
Similar Species
The Variable Oystercatcher (Haematopus unicolor) looks very similar but their ranges do not overlap so no confusion possible. The Chatham Island Oystercatcher also has a shorter bill and thicker shorter legs than the Variable Oystercatcher.
Distribution
The rarest Oystercatcher species in the world (88 breeding pairs and 311 birds as of the 2004 census (NZ Department of Conservation)), the Chatham Island Oystercatcher is found only on South East Island, Pitt Island, Mangere Island and Chatham Island in the Chatham Islands, New Zealand.
Taxonomy
This is a monotypic species[1].
Considered by some to be a subspecies of Variable Oystercatcher.
Habitat
This Oystercatcher is found on rocky and sandy coasts of the Chatham Islands and also visits lagoons, ponds and farmland near the coast.
Behaviour
Diet
The Chatham Island Oystercatcher lives on a diet of marine molluscs, worms and other invertebrates.
Breeding
It nests in scrapes on sandy and rocky shores, away from the waterline. 2-3 eggs are laid.
Introduced species have had a significant impact on the ability of the Chatham Island Oystercatcher to produce a sustainable number of chicks. Recent conservation efforts by the New Zealand government, commencing in 1998 (NZ Department of Conservation) have seen the world population double.
Vocalisation
They vigorously defend their territories using loud shrill piping calls and displays. Their distinctive call is also readily identifiable when the birds are in flight.
References
Clements, JF. 2009. The Clements Checklist of Birds of the World. 6th ed., with updates to December 2009. Ithaca: Cornell Univ. Press. ISBN 978-0801445019.
BirdLife International
ARKive
Recommended Citation
External Links