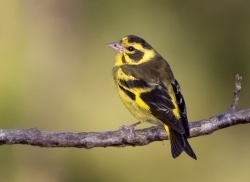 Genus: Chloris
Description
Greenfinches
Taxonomy
Chloris is a genus in the family Fringillidae.
It was formerly included in Carduelis
References
Clements, JF. 2011. The Clements Checklist of Birds of the World. 6th ed., with updates to August 2011. Ithaca: Cornell Univ. Press. ISBN 978-0801445019. Spreadsheet available at http://www.birds.cornell.edu/clementschecklist/downloadable-clements-checklist
Gill, F and D Donsker (Eds). 2011. IOC World Bird Names (version 2.10). Available at http://www.worldbirdnames.org/.
Recommended Citation
Pages in category 'Chloris'
The following 5 pages are in this category, out of 5 total.