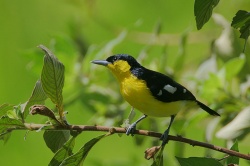 Genus: Aegithina
Description
The four Ioras from south and south-east Asia.
Ioras are small passerines with a mostly yellow-green and black plumage.
They are sexually dimorphic.
Taxonomy
Aegithina is the only genus in the family Aegithinidae.
References
Clements, JF. 2011. The Clements Checklist of Birds of the World. 6th ed., with updates to August 2011. Ithaca: Cornell Univ. Press. ISBN 978-0801445019. Spreadsheet available at http://www.birds.cornell.edu/clementschecklist/downloadable-clements-checklist
Del Hoyo, J, A Elliot, and D Christie, eds. 2005. Handbook of the Birds of the World. Volume 10: Cuckoo-Shrikes to Thrushes. Barcelona: Lynx Edicions. ISBN 978-8487334726
Recommended Citation
Pages in category 'Aegithina'
The following 4 pages are in this category, out of 4 total.