This article is incomplete.
This article is missing one or more sections. You can help the BirdForum Opus by expanding it.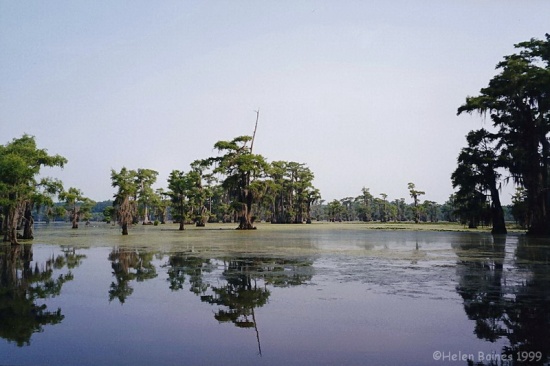 Overview
Caddo Lake is a place of great scenic beauty and biological diversity. It sits astride the Texas-Louisiana border about 15 to 20 miles north of Interstate Highway 20.
The ecosystem here predates that of any other large lake in Texas and contains stands of bald cypress trees 250 to 400 years old. Caddo Lake has been recognized by the Ramsar Convention as a wetland of international importance. More than 7,000 acres here are now protected by the state of Texas as a Park and Wildlife Management Area; and 7200 acres are a US Fish and Wildlife Service National Wildlife Refuge. The wetlands provide include 44 threatened and endangered species, as well as the most diverse native freshwater fish fauna in the state.
The 32,000-acre lake is made up of a sprawling maze of bayous, sloughs and channels through pine and hardwood forest, bald cypress swamp and open lake. 246 Species have been recorded at Caddo Lake since 1980.
Birds
Notable Species
To do
Rarities
To do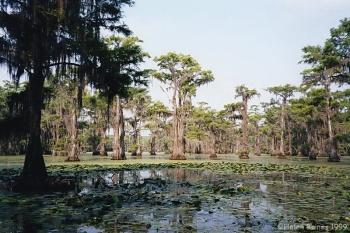 Check-list
Birds you can see here include:
To do
Other Wildlife
Alligators, turtles, frogs, snakes, raccoons, minks, nutria, beavers, squirrels, armadillos, white-tailed deer.
Site Information
History and Use
The area was inhabited by the Caddo Indians for thousands of years, before the Europeans arrived. The area, called the Cypress basin, was lowlying and frequently flooded causing the ponds and bayous to merge into one big bayou - Big Cypress Bayou. Caddo Lake was originally formed naturally, in 1799, by a huge log jam, called The Great Raft, on the eastern side of the lake in Louisiana. Caddo Lake eventually succumbed to the meddling of man, when explorers arrived on the new frontier in 1835. Henry Shreve was employed by the US government, to remove the log jam. He was able to remove enough to let steamboats enter into the Cypress Bayou and then into Caddo Lake and beyond. Ports and settlements were built along the waterways and lake and then in 1873 the log jam was completely removed from the Red River. The unintended consequences were that lake levels dropped so much that steamboat travel became impossible, although the lake did not drain completely. A man made dam, completed in the 1970s, has restored the water levels in the lake.
Areas of Interest
Caddo Lake State Park
Caddo Lake National Wildlife Refuge
Access and Facilities
Canoes or boats can be rented at the State Park or marinas in the area. Carry GPS with you, or a map of the lake and a compass to avoid getting lost among the densely wooded, and confusing channels. Guides and tour boats are available.
Contact Details
Caddo Lake Area Chamber of Commerce
P.O. Box 228
Karnack, TX 75661
E-Mail: [email protected]
External Links

Content and images originally posted by TexasFlyway and HelenB