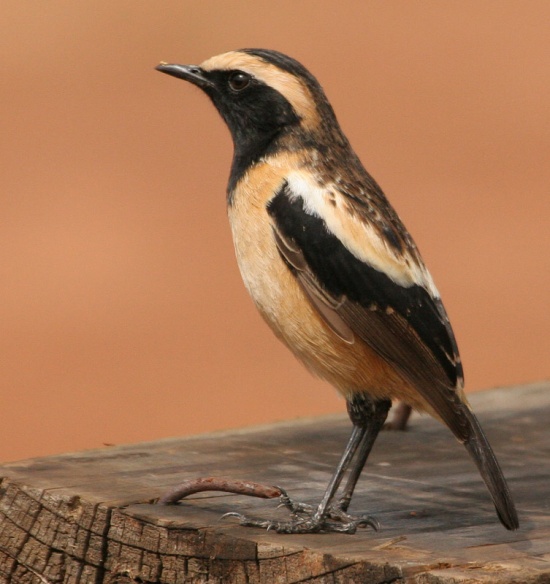 Alternative names: Buff-streaked Bushchat; Buff-streaked Wheatear
Campicoloides bifasciatus
Saxicola bifasciata
Oenanthe bifasciata
Identification
Length 16-17 cm, mass about 33 g
Adult male: The face, throat and upper breast are black. Distinctive buff eyebrows extend to the forehead and down the sides of the neck to the orange-buff lower breast and belly. The scapulars and rump are also buff. The crown, nape, mantle and back are dark brown.
Adult female: The upperparts are brown with dark streaks. The pale eyebrow is indistinct, the rump is buff, and the tail black. The underparts are cinnamon-buff with darker streaks on the breast.
Juvenile: Similar to the female, but spotted above and scaled below.
Distribution
Southern Africa: Highlands of South Africa, Lesotho and eSwatini.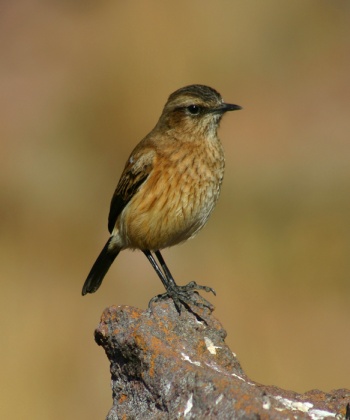 Taxonomy
The taxonomic status of this species is uncertain; it has been placed in Saxicola, Oenanthe and Campicoloides recently (Lepage, 2007[2]).
This is a monotypic species[1].
Habitat
Rocky slopes in highland grassland.
Behaviour
Solitary, in pairs, or in small groups.
Diet
Food is mainly invertebrates, but includes seeds and (rarely) nectar. Prey is taken both on the ground and aerially, often from a perch on a rock.
Breeding
A co-operative breeder, young birds help their parents feed subsequent broods. Nests are built mainly by the female at the base of a rock or in a crevice. Eggs (usually 3) are laid September to February.
References
Clements, JF. 2009. The Clements Checklist of Birds of the World. 6th ed., with updates to December 2009. Ithaca: Cornell Univ. Press. ISBN 978-0801445019.
Avibase
Hockey, PAR, WRJ Dean, and PG Ryan, eds. 2005. Roberts' Birds of Southern Africa. 7th ed. Cape Town: John Voelcker Bird Book Fund. ISBN 978-0620340533
Recommended Citation
External Links
GSearch checked for 2020 platform.1