This article is incomplete.
This article is missing one or more sections. You can help the BirdForum Opus by expanding it.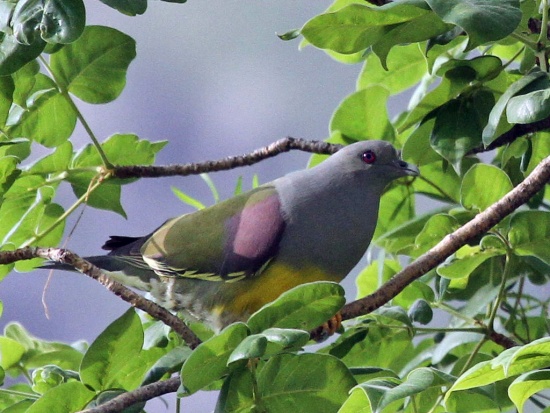 Treron waalia
Identification
Deep olive green head
Paler green throat and upper breast
Yellow underparts
Purple shoulder patches
Deep olive green wings with buff edges
Dark brown iris
Orange legs and feet
Light grey bill
Distribution
Africa and the Middle East
Western Africa: Mauritania, Senegambia, Senegal, The Gambia, Guinea-Bissau, Guinea, Mali, Ivory Coast, Burkina Faso, Ghana, Togo, Benin, Nigeria, Niger, Chad, Cameroon, Central African Republic, Equatorial Guinea, DRC
Eastern Africa: Sudan, Eritrea, Ethiopia, Djibouti, Somalia, Kenya, Uganda
Middle East: Arabian Peninsula, Saudi Arabia, Yemen, Socotra, Oman
Taxonomy
This is a monotypic species[1].
Subspecies T. w. jubaensis is generally considered invalid[2].
Habitat
Savanna.
Behaviour
References
Clements, J. F., T. S. Schulenberg, M. J. Iliff, B.L. Sullivan, C. L. Wood, and D. Roberson. 2012. The eBird/Clements Checklist of Birds of the World. 6th ed., with updates to October 2012. Ithaca: Cornell Univ. Press. ISBN 978-0801445019. Spreadsheet available at http://www.birds.cornell.edu/clementschecklist/downloadable-clements-checklist
Avibase
Recommended Citation
External Links