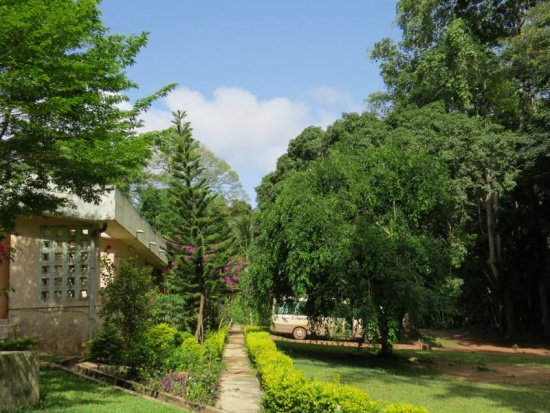 Overview
Created for protecting more than 400 species of butterflies, this reserve has also an impressive bird list. It's located close to Kumasi, the capital of the Ashanti region.
Birds
Notable Species
Yellow-footed Honeyguide and Tessmann's Flycatcher are two of the specialities here. Red-chested Owlet can be found behind the visitor centre.
Check-list
Birds you can see here include:
African Cuckoo Hawk, African Goshawk, Long-tailed Hawk, White-spotted Flufftail, Blue-spotted Wood Dove, Tambourine Dove, African Green Pigeon, Afep Pigeon, Red-eyed Dove, Black Cuckoo, Blue Malkoha, Red-chested Owlet, Little Swift, Forest Wood Hoopoe, Black Dwarf Hornbill, African Pied Hornbill, Hairy-breasted Barbet, Yellow-footed Honeyguide, Little Greenbul, Little Grey Greenbul, Western Nicator, Grey-headed Bristlebill, Grey Longbill, Tessmann's Flycatcher, West African Wattle-eye, Brown Illadopsis, Olive Sunbird, Collared Sunbird, Superb Sunbird, Red-billed Helmetshrike, Fanti Drongo, Forest Chestnut-winged Starling, Splendid Glossy Starling, Village Weaver, Yellow-mantled Weaver, Maxwell's Black Weaver, Crested Malimbe, Red-headed Malimbe, Grey-headed Nigrita
Other Wildlife
Several species of squirrels and monkeys can be seen here.
Site Information
History and Use
The reserve is popular among the people of Kumasi at weekends. If you visit on a weekend, make sure to be there early.
Areas of Interest
Birdwatching is interesting from the road to the visitor centre and on the forest trails from the centre itself. Best times are early morning or late afternoon.
Access and Facilities
Bobiri can be reached by car from Kumasi. Take the main road to Accra. After approximately 30 kms you reach the small village of Kubease. Turn left there (signposted), follow the road for 1.2 km and turn right again to the reserve. Kubease can be reached by public transport.
External Links