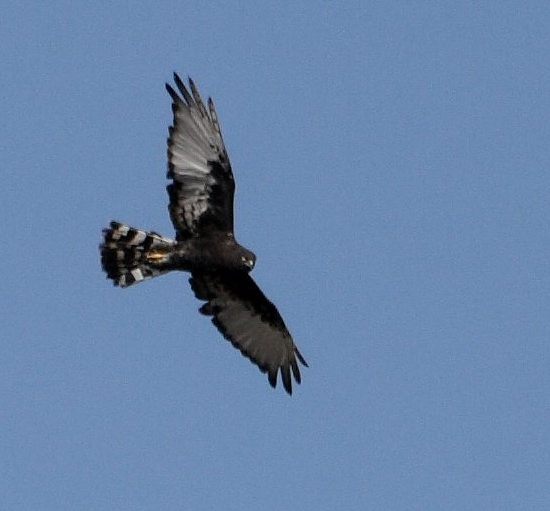 Circus maurus
Identification
Length 48-53 cm, 350-600 g, females larger than males. Adult: Black above with a white rump. The tail is grey with black bars, and the wings are black, white and grey. The underparts are mostly black.
Distribution
Southern Africa. Breeds in a limited area of the southern Cape (south of 31°S). After breeding the species ranges more widely in South Africa, Lesotho, south-west Namibia and southern Botswana.
Taxonomy
Circus maurus is monotypic.[1]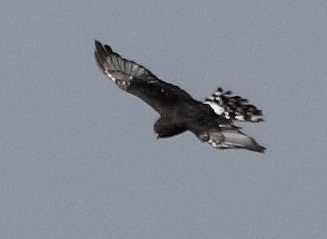 Habitat
Grassland, fynbos, scrubland, croplands and semi-desert.
Status
Classified as Vulnerable in the 2007 IUCN Red List (BirdLife International, 2007).
Behaviour
Mostly solitary. Perches both in elevated positions and open ground.
Diet
Forages mainly for mice and birds from flight 1-3 m above the ground.
Breeding
Usually a solitary nester and usually monogamous. The nest is built of twigs and grass on or just above the ground in fynbos bushes or wetland grass or sedges. One to five eggs are laid June-November.
References
Clements, JF. 2008. The Clements Checklist of Birds of the World. 6th ed., with updates to December 2008. Ithaca: Cornell Univ. Press. ISBN 978-0801445019.
BirdLife International 2007. Species factsheet: Circus maurus. Downloaded from http://www.birdlife.org on 11 February 2008.
Hockey PAR, Dean WRJ & Ryan PG (eds) 2005. Robert's Birds of Southern Africa, 7th edition. John Voelcker Bird Book Fund, Cape Town, South Africa. ISBN 0620340533
External Links
GSearch checked for 2020 platform.1