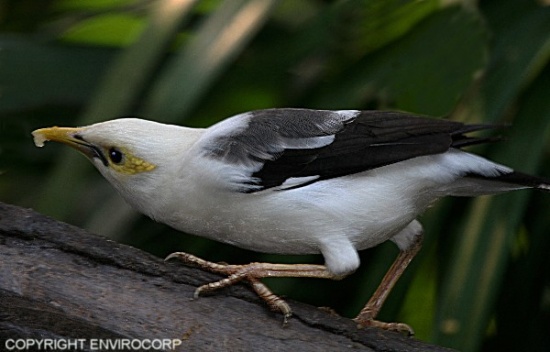 Alternative names: Black-winged Myna; White-breasted Starling
Acridotheres melanopterus
Sturnus melanopterus
Identification
23cm. A small Starling with a striking black-and-white plumage:
White plumage
nominate with white mantle and upperparts, tricolor with grey back and black upperwing-coverts, tertius with grey mantle to uppertail-coverts and black upperwing-coverts
Black wings with white wing patch
Black tail with white tips
Bare yellow skin around eye
Yellowish-orange bill, horn legs and feet
Sexes similar. Juveniles are grey from crown to back.
Distribution
Found in Indonesia in the lowlands of Java, Bali and Lombok (where status unclear, only few records known).
The nominate race has been introduced in Singapore.
A rare and local species.
Taxonomy
Three subspecies recognized:
A. m. melanopterus on Java (expect southeast) and Madura Island
A. m. tricolor in southeast Java
A. m. tertius on Bali, Nusa Penida and Lombok
Some authorities treat this species as monotypic[1].
Often placed in genus Sturnus.
May form a superspecies with Vinous-breasted Starling.
Habitat
Dry and rainforests, shrubland, and pastures and grassland at low elevations. Occurs up to 1300m, occasionally recorded higher.
Behaviour
Feeds on fruit, nectar and insects.
Forages in pairs or small flocks in trees and on the ground.
Forms roosts in tall trees, sometimes associated with Bali Myna.
Breeding season in January and from March to May in Java, February (and partly also June) in Bali. Presumed to be monogamous. The nest is placed in a rock hole or a tree hole. Lays 3 - 4 eggs.
A resident species.
References
Clements, J. F., T. S. Schulenberg, M. J. Iliff, D. Roberson, T. A. Fredericks, B. L. Sullivan, and C. L. Wood. 2017. The eBird/Clements checklist of birds of the world: v2017, with updates to August 2017. Downloaded from http://www.birds.cornell.edu/clementschecklist/download/
Del Hoyo, J, A Elliott, and D Christie, eds. 2009. Handbook of the Birds of the World. Volume 14: Bush-shrikes to Old World Sparrows. Barcelona: Lynx Edicions. ISBN 978-8496553507
BirdLife International
Recommended Citation
External Links
Search the Gallery using the scientific name Acridotheres melanopterus:
Search the Gallery using the scientific name Sturnus melanopterus:
GSearch checked for 2020 platform.