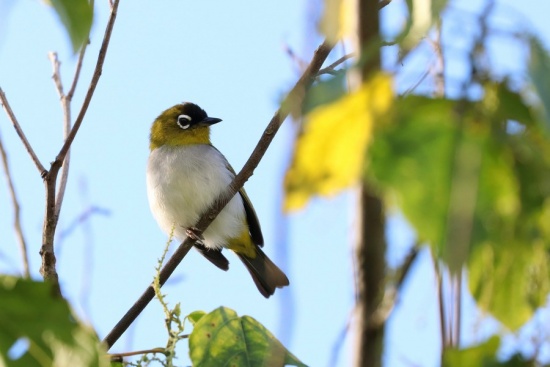 Zosterops atrifrons
Identification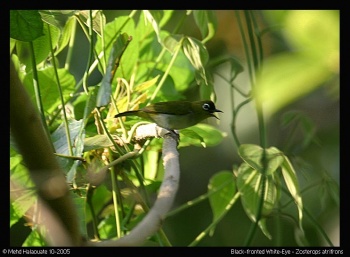 Length: 11–12 cm (4¼-4¾ in) Weight:8·3–9·7 g.
eyering wide, white. Broken in front by a black spot which continues below under eyering
forehead and hind part of crown black merging below the crown into the dark green upperparts.
flight feathers dark with broad dark green edges.
tail feathers dark partially edged dark green.
chin and throat yellow.
breast and belly off-white.
undertail coverts yellow.
eye hazel.

beak black.
legs light grey.
Sexes alike.
Juveniles have a duller throat, less extensive black on crown with green speckling and a smaller eyering.
Similar Species
Differs from Togian White-eye which has a flesh coloured eye ring
Distribution
Sulawesi and some adjacent islands, Indonesia.
Taxonomy
Distinctive subspecies sulaensis and subatrifrons may warrant species status as "Sula White-eye" and "Banggai White-eye" respectively.
Subspecies
There are 4 subspecies [1]
Z. a. atrifrons: North, north-central and south-eastern Sulawesi and Peleng Island (Banggai Island) [bright yellow cheeks and throat. The eyering may appear to be broken at the back]
Z. a. sulaensis: Sula Island (Taliabu, Seho, Mangole and Sanana) [similar to nominate, with broader white eyering and a deep yellowy-orange throat.]
Z. a. surda: Central Sulawesi. [larger than nominate; duller with greener upperparts and a greeny-yellow throat. Thinner eyering clearly broken at back as well as front. More extensive black fore crown.]
Z. a. subatrifrons: Peleng Island [larger than nominate with a wide eyering]
Habitat
Lives in scrub, lowland forest and hill forest of various degrees of degradation including through logging, uses roads and rivers to penetrate forest edge and cultivated highlands. In the lowlands it occurs up to 1500 m. Shares habitat with Pale-bellied White-eye, but not in all areas.
Behaviour
Diet
Eats fruit, arthropods and seeds.
Can be seen foraging in small flocks in Sulawesi, in larger flocks of up to 20 in Taliabu and flocks of up to 100 have been seen in Minahasa, N Sulawesi.
Searches under leaves and epiphytic plants for arthropods. Hovers to reach fruit.
Breeding
Apr–May. Nests in a cup like nest suspended from the fork of a twig by fibres such as cobwebs. The clutch contains 2–3 blue eggs.
References
Clements, J. F., T. S. Schulenberg, M. J. Iliff, D. Roberson, T. A. Fredericks, B. L. Sullivan, and C. L. Wood. 2018. The eBird/Clements checklist of birds of the world: v2018. Downloaded from http://www.birds.cornell.edu/clementschecklist/download/
Handbook of the Birds of the World Alive (retrieved July 2015)
Recommended Citation
External Links
GSearch checked for 2020 platform.