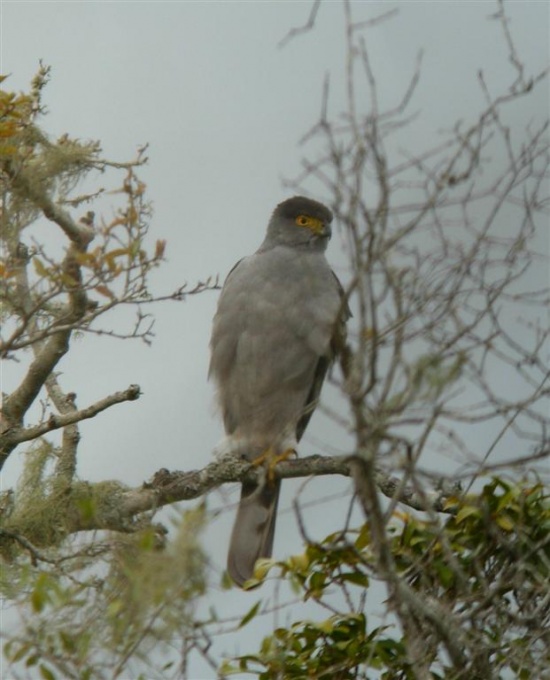 Accipiter bicolor
Identification
Adult birds have dark uppersides, plain gray undersides without any dark markings, and rufous thighs which can easily be hidden under gray belly feathers1, 2.
Juveniles are more variable showing undersides between white and rufous and less contrasting thighs, but always expected to have a neck collar similar in color to the underparts3.
Similar Species
A thread discussing differences between juveniles of this species and the Collared Forest Falcon is found here.
Also frequently confused with various other Forest Falcons and the Gray-bellied Goshawk.
Distribution
Mexico to Argentina and east to the Guianas and Brazil.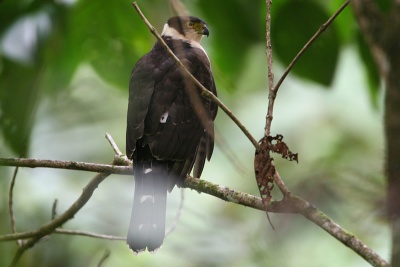 Taxonomy
The Chilean Hawk was formerly included in this species.
Subspecies[4]
Bicolored Hawk (Bicolored)
Lowlands of southern Mexico (Oaxaca, Veracruz and Yucatán Peninsula)
Bicolored Hawk (Spotted)
Habitat
Breeds in open forest and forest edges. May be found in urban areas at other times.
Behaviour
Flight
Usually seen flying low to the ground.
Breeding
It builds a stick nest; 1-3 dull light bluish to off-white eggs are laid and are incubated for 35 days; the young fledge 30-36 days later.
Diet
The diet includes birds, though large insects and rodents are also taken.
References
Restall et al. 2006. Birds of Northern South America. Yale University Press. ISBN 9780300124156
Thread in the Identification forum of Birdforum
Thread in the Identification forum of Birdforum
Clements, J. F., T. S. Schulenberg, M. J. Iliff, T. A. Fredericks, J. A. Gerbracht, D. Lepage, S. M. Billerman, B. L. Sullivan, and C. L. Wood. 2022. The eBird/Clements checklist of Birds of the World: v2022. Downloaded from https://www.birds.cornell.edu/clementschecklist/download/
Gill, F, D Donsker, and P Rasmussen (Eds). 2022. IOC World Bird List (v 12.2) DRAFT. Doi 10.14344/IOC.ML.12.2. http://www.worldbirdnames.org/
Jaramillo, A. 2003. Birds of Chile. Princeton & Oxford: Princeton Univ. Press. ISBN 978-0691117409
Recommended Citation
External Links
GSearch checked for 2020 platform.