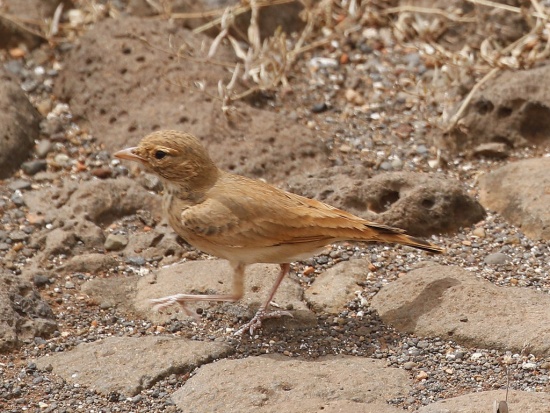 Ammomanes cinctura
Previously known as Ammomanes cincturus.
Identification
13-14cm (5-5½ in)

Greyish upperparts
Reddish-brown tail with black terminal band
Bill may look pink or white depending on the light
Similar Species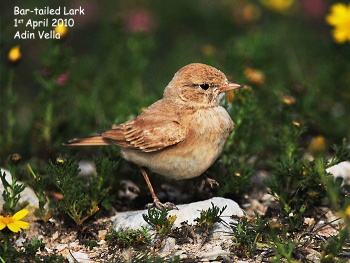 Desert Lark, which is larger and has a longer bill.
Distribution
Europe. Africa, Middle East, Asia:
Europe: Italy, Malta
Northern Africa: Morocco, Algeria, Tunisia, Egypt
Western Africa: Mauritania, Mali, Niger, Chad
Eastern Africa: Sudan
African Islands: Cape Verde Islands
Middle East: Turkey, Syria, Lebanon, Israel, Jordan, Arabian Peninsula, Saudi Arabia, Yemen, Oman, Qatar, Bahrain, Kuwait, Iraq, Iran
Asia: Afghanistan, Pakistan
Taxonomy
Subspecies
There are 3 subspecies[1]:
A. c. arenicolor (pallens):
Habitat
Hot deserts, hamada.
Behaviour
Inclined to flock outside of the breeding season. Constantly on the move, making only brief stops.
Diet
Their main diet consists of seeds, with some other plant material. They will also eat some insects.
Movement
Spreads tail momentarily when landing. Undulating flight
Vocalisation
Call: a harsh trilling cherr or bshee
Song: (sounds like a rusty door hinge) tleo weeh, tleo weeh, tleo weeh, often delivered in flight.
References
Clements, J. F., T. S. Schulenberg, M. J. Iliff, D. Roberson, T. A. Fredericks, B. L. Sullivan, and C. L. Wood. 2018. The eBird/Clements checklist of birds of the world: v2018. Downloaded from http://www.birds.cornell.edu/clementschecklist/download/
Avibase
Collins Bird Guide ISBN 0 00 219728
BF Member observations
Handbook of the Birds of the World Alive (retrieved December 2018)
Recommended Citation
External Links
GSearch checked for 2020 platform.