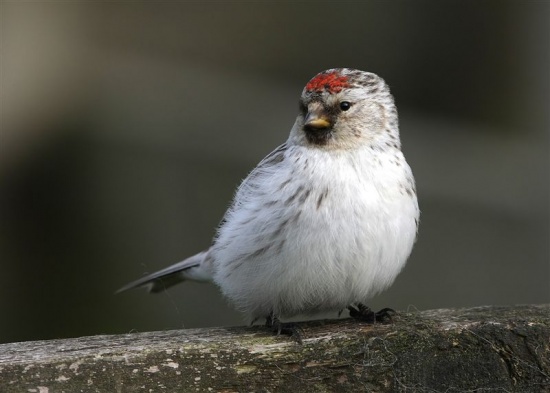 Alternative name: Arctic Redpoll
Acanthis hornemanni
Carduelis hornemanni
Identification
11·5–14 cm (4½-5½ in)
Buff-grey upperparts streaked brown
White underparts with brown streaks (washed pink in male).
Red cap
Black chin patch
Black wings with two white bars
Rump is pale gray or white with few or no streaks.
Notched, black tail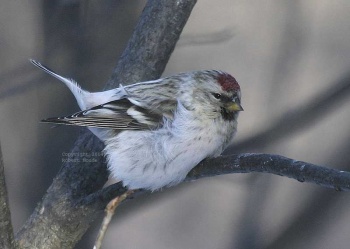 Similar Species
Similar to Common Redpoll
Distribution
Breeds northern Canada, Alaska, Greenland, far northern Scandinavia and Russia. Winters south to northern United States.
Taxonomy
Hoary/Arctic Redpoll might not be a different species from Common Redpoll[4].
Subspecies
There are 2 subspecies[1]:
A. h. exilipes: Alternative name : Coue's Arctic Redpoll
Was formerly placed in genus Carduelis.
Habitat
Inhabits weedy pastures and roadsides in winter; stays on tundra in summer.
Behaviour
Diet
Their diet consists mostly of small seeds, buds, shoots and catkins, mainly from birch, alder, willow and conifer trees.
Breeding
Nests in the fork of willow or birch trees.
Vocalisation
References
Clements, J. F., T. S. Schulenberg, M. J. Iliff, S. M. Billerman, T. A. Fredericks, B. L. Sullivan, and C. L. Wood. 2019. The eBird/Clements Checklist of Birds of the World: v2019. Downloaded from http://www.birds.cornell.edu/clementschecklist/download/
Whatbird
Collins Bird Guide ISBN 0 00 219728 6
Birdforum thread discussing taxonomy of Redpolls
Handbook of the Birds of the World Alive (retrieved October 2016)
Recommended Citation
External Links
GSearch checked for 2020 platform.1