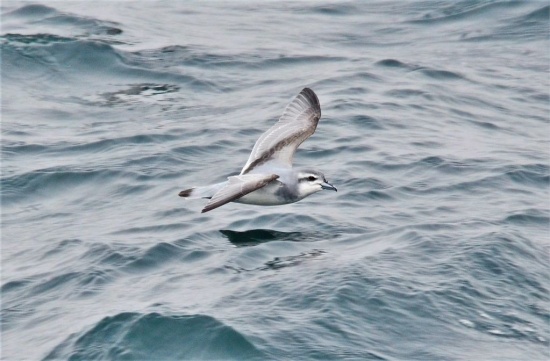 Alternative name: Dove Prion
Pachyptila desolata
Identification
25–28 cm (9¾-11 in)
Grey or greyish-blue upperparts
Bluish-grey patch on back and side of neck (sharply demarcated)
Slate-grey forehead and crown
Strong black mark around the eye
Tail band is relatively narrow
Bill: wider at the base than near the tip
Similar Species
Similar to most other prions in general pattern.
Distribution
South America, Africa, Asia and Australasia
South America: Peru, Uruguay, Chile, Argentina
Western Africa: Angola
Southern Africa: Namibia, South Africa, KwaZulu-Natal
Southeast Asia: Indonesia, Greater Sundas, Java,
Australasia: New Guinea, Australia, New South Wales, Queensland, South Australia,Tasmania, Victoria, Western Australia, New Zealand
Antarctica: South Georgia Island, South Sandwich Island, South Orkney Island, South Shetland Island, Tristan da Cunha.
They breed on South Georgia, the South Sandwich Islands, the South Orkney Islands, the South Shetland Islands, Iles Crozet, Iles Kerguelen, Heard Island, Macquarie Island, Auckland Island, and Scott Island.
Taxonomy
Subspecies
There are three subspecies[1]:
Crozet, Kerguelen and Macquarie islands
Auckland and Heard islands
Scotia Archaepelago, South Georgia, South Sandwich and Scott islands
Habitat
Seas and coastal areas.
Behaviour
Breeding
They nest on exposed rock faces of cliffs, in cavities under boulders or in short twisting burrows in soft grass-covered slopes. A single egg is incubated by both parents for 45 days.
Diet
They feed from the surface of the sea and the diet includes crustaceans and krill.
Gallery
Click on photo for larger image
References
Clements, J. F., T. S. Schulenberg, M. J. Iliff, D. Roberson, T. A. Fredericks, B. L. Sullivan, and C. L. Wood. 2018. The eBird/Clements checklist of birds of the world: v2018. Downloaded from http://www.birds.cornell.edu/clementschecklist/download/
Avibase
Australian Antarctic Division
Birdforum thread discussing ID of prions
Handbook of the Birds of the World Alive (retrieved November 2014)
Recommended Citation
External Links
GSearch checked for 2020 platform.