This article is incomplete.
This article is missing one or more sections. You can help the BirdForum Opus by expanding it.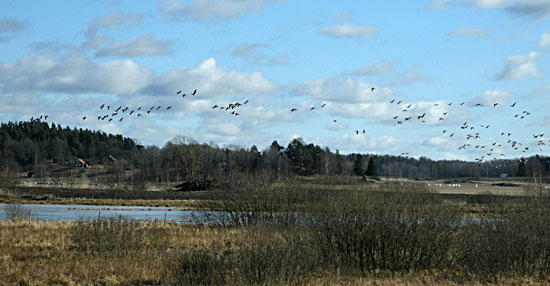 Overview
Much like Lake Hornborga, Lake Angarn was dried out to create farmland. Restored twice and now a nature reserve it has become one of the better birding spots in the Stockholm and Uppland area.
As a perfect rest location for migrating birds, springs and autumns here can provide up to 100 different species.
Birds
Notable Species
Today Angarn hosts about 100 nesting species as well as about 150 migrants and other temporary guests.
Rarities
Beeing a wetland many waders and duck species can be found. The open grounds also provides hunting grounds for many raptors.
Check-list
Birds you can see here include:
Svalan is a Swedish reporting system for birds, click here to see what can be found at Angarn. Make your own search or try this one for last weeks observations.
Other Wildlife
To do
Site Information
History and Use
Angarn lake was once just a bay in the sea, but due to the land raising after the iceage it soon became a lake. This occurred sometime before year 0. Many remains exist from both the Bronze age and Iron age in form of runstones and carvings. As Iron age set in and the climate changed people became farmers, a situation which has prevailed to this day.
Atleast once in 1863 and once 1890-2 the water level was lowered in the lake to gain more farmland but the result was not completely satisfactory. The ditches grew in and had to be cleaned out peridodically. The maintenance was not kept up after 1945 and the lake disaperad more and more.
During the 1960s and 70s the lake was in danger of becoming the next Stockholm suburb complete with subway etc. Among others the Angarngruppen group was created to fight this, and eventually the Angarn lake nature reserve was created in the early 1980s.
The lake was restored in two steps during the 1980s and 1990s. The water was raised, a dam built and alot of clay was removed. Smaller restoration and maintenance is carried out periodically.
Areas of Interest
To do
Access and Facilities
Angarn is situated between Vallentuna and Brottby in Vallentuna county ca 35 km north of Stockholm.
You can get here either by bus 625 from Danderyd or by car via E18. Coming from the south (Stockholm) get off E18 at Rosenkälla and follow the signs for Angarn. Just after Angarn village is a sign "Naturreservat". From the north you get off E18 at Brottby and drive towards Vallentuna. If coming from the west and E4 drive towards Vallentuna and then on to Angarn, turn left at the village and left again at the sign "Naturreservat"
Restrooms can be found at the main parking at Örsta (Angarn village) and across the lake at Skesta.
A 6,5 km footpath leads around the lake and is almost always passable, during high water in April some parts can present problems.
A lookout tower is placed on the southern shore, but the hill "midsommarberget" also provides a nice view.
Contact Details
To do
External Links
Angarngruppen, site only in Swedish currently
Birding at Angarn, complete with species list