Alternative names: Abyssinian Hill Babbler; Mountain Babbler; Hill Akalat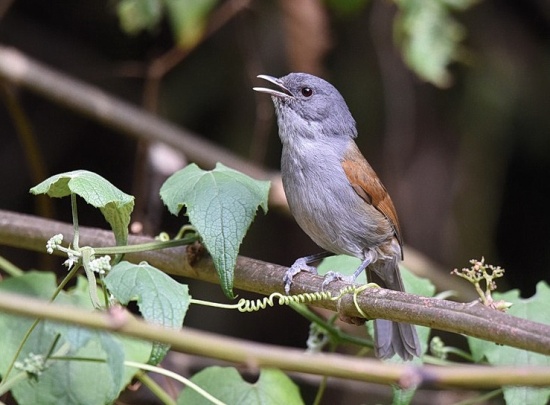 Sylvia abyssinica
Illadopsis abyssinica

Identification
13 - 15cm (5-6 in). A bird with marked racial variation.
Nominate
Upperparts and tertial rich brown
Upperwing and tail dark brown with rich brown fringes
Grey head, grey breast and vent and whitish-grey throat
Variations
Stierlingi with blackish-grey crown and head sides, whitish trhoat and breast with grey streaks
Similar species
Mountain Illadopsis is very similar but has a gradual (not sharp) demarcation of crown and mantle colour. Also differs in voice and behaviour.
Distribution
Sub-Saharan Africa
Western Africa: Guinea, Nigeria, Cameroon, Equatorial Guinea, Democratic Republic of Congo, Angola
Eastern Africa: Sudan, Ethiopia, Kenya, Uganda, Rwanda, Tanzania, Zambia, Mozambique, Malawi
African Islands: Gulf of Guinea Islands, Bioko (Fernando Po) Common in parts of its range.
Taxonomy
Has also been placed in genus Illadopsis.
Subspecies
Clements2 accepts five subspecies:
Rwenzori Hill Babbler has recently been split from this species.
Habitat
Dry forests, moist montane forests, and moist shrubland.
Behaviour
Diet
Feeds on insects like bark beetles or caterpillars and molluscs. Takes also small berries, fruits and seeds.
Forages in undergrowth and liana-rich middle-stratum thickets where it gleans its prey from twigs and leaves, sometimes hovering. Usually seen singly or in pairs, sometimes in small groups.
Breeding
Breeding season differs through range. The nest is a small basket or cup made of dry twigs and woven with fine dry stalks or moss or beard lichen. Lays 2 eggs.
Movements
Resident species.
Gallery
Click on photo for larger image
References
Del Hoyo, J, A Elliott, and D Christie, eds. 2007. Handbook of the Birds of the World. Volume 12: Picathartes to Tits and Chickadees. Barcelona: Lynx Edicions. ISBN 978-8496553422
Clements, J. F., T. S. Schulenberg, M. J. Iliff, S. M. Billerman, T. A. Fredericks, B. L. Sullivan, and C. L. Wood. 2019. The eBird/Clements Checklist of Birds of the World: v2019. Downloaded from http://www.birds.cornell.edu/clementschecklist/download/
Recommended Citation
External Links
GSearch checked for 2020 platform.