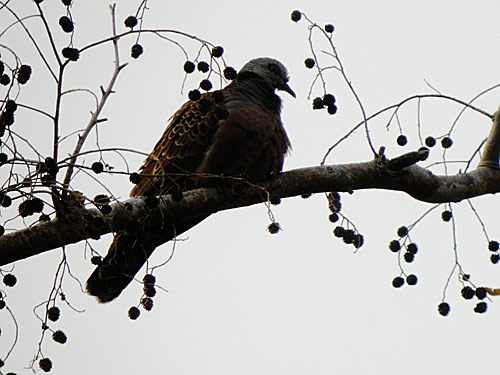 Streptopelia hypopyrrha
Identification
30cm
Male: Pale grey forehead, darker blue grey crown and nape, black neck feathers on the sides and hindneck, rufous brown mantle and upper back, dark ash brown rump, upper tail coverts, wing shields thickly edged from pale buff to deep rufous, blue grey chest, deep salmon pink lower chest and belly, blue grey coverts, red or orange irides with dark outer ring, dark red orbital skin or eye cere, black bill, purplish red legs and feet.
Female: paler version of male.
Juvenile: paler with or without slight pinkish belly.
Distribution
Western Africa: found in Nigeria, Cameroon and adjacent southwestern Chad.
Taxonomy
This is a monotypic species.
Habitat
Highlands.
Behaviour
2 white eggs are laid and incubated for 14-15 days.
External Links
GSearch checked for 2020 platform.